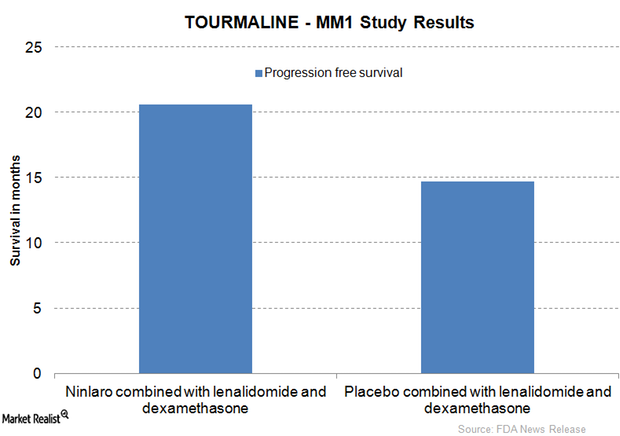 Clinical Trials Prove Ninlaro's Superior Efficacy Profile
By Margaret Patrick

Nov. 23 2015, Updated 5:15 p.m. ET
Clinical trials
Takeda Pharmaceutical Company's (TKPYY) multiple myeloma (or MM) drug Ninlaro (ixazomib) was approved on November 20, 2015, by the U.S. Food and Drug Administration (or FDA). Ninlaro is a once-weekly oral therapy, approved in combination with lenalidomide and dexamethasone.
Ninlaro is also being studied by Takeda Pharmaceutical for treating systemic light-chain AL amyloidosis and other types of blood malignancies.
Article continues below advertisement
Trial results
The above graph illustrates the results from the randomized, double-blind, placebo-controlled Phase 3 clinical trial for Ninlaro, called TOURMALINE-MM1. The study involved 722 MM patients who either had not responded to prior therapy or had suffered from relapse.
These patients were administered either Ninlaro combined with lenalidomide and dexamethasone or a placebo combined with lenalidomide and dexamethasone.
MedicineNet explains randomized clinical trials as those "in which the participants are assigned randomly (by chance alone) to different treatments." According to MedicineNet, a double-blinded study is defined as "A medical study in which both the subjects participating and the researchers are uaware of when the experimental medication or procedure has been given. Double-blinded studies are often used when initial studies shows particular promise."
Article continues below advertisement
ClinicalTrials.gov defines a placebo as "a substance that does not contain active ingredients and is made to be physically indistinguishable (that is, it looks and tastes identical) from the actual drug being studied." In a placebo-controlled study, "patients receiving the new treatment are compared with those which receive a placebo."
It was observed that those patients who had been treated with Ninlaro displayed higher progression-free survival (or PFS) or lived longer without worsening of the MM disease than the patients who had received the placebo. Patients on Ninlaro therapy displayed an average PFS of 20.6 months, while those who were administered the placebo displayed an average PFS of 14.7 months.
Clinical results significance
Celgene's (CELG) Revlimid (lenalidomide) is currently considered to be a backbone therapy for MM patients. Takeda Pharmaceutical's Ninlaro has displayed improved efficacy when delivered in combination with lenalidomide and dexamethasone.
Based on its superior clinical profile, Ninlaro is expected to prove a tough competitor to other MM drugs such as Novartis's (NVS) Farydak and Amgen's (AMGN) Kyprolis.
US investors can get exposure to multiple MM players without bearing excessive company-specific risks by investing in the iShares NASDAQ Biotechnology ETF (IBB). MM players such as Amgen and Celgene account for about 8.9% and 8.2% of IBB's total holdings, respectively.