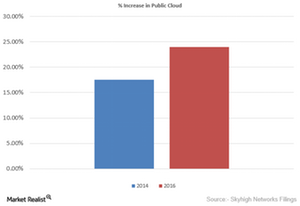 Cisco and Skyhigh Collaboration to Deliver Comprehensive Solution
By Parker Thomas

Updated
Enterprises embracing public cloud
The public cloud is grabbing a bigger share of corporate budgets. Companies such as Amazon (AMZN), Facebook (FB), and Google (GOOG) have designed their own customized cloud equipment to suit their needs. IDC Research estimates that pubic cloud adoption will increase to 24.0% in 2016, compared with 17.5% in 2014. The increase in cloud adoption gives rise to the question of the security of sensitive data that flows across the network. To address this solution, organizations are seeking collaborations to provide combined solutions for the cloud and security.
Article continues below advertisement
How will Cisco benefit from collaboration?
Cisco Systems (CSCO) has announced its collaboration with Skyhigh Networks, a cloud security company that delivers security solutions by analyzing enterprises' patterns of data usage. The cloud has massively increased its usage across the network perimeter. According to Skyhigh's Cloud Adoption and Risk Report, the average organization uses approximately 1,154 cloud services. The average employee uses 30 cloud services at work, including eight collaboration services, five file sharing services and four content sharing services.
Through collaborating with Skyhigh, Cisco will be in a position to address its clients with more information on cloud usage and enforce control over pre-defined organizational rules. Moreover, it will allow customers to monitor cloud traffic usage on a real-time basis for approximately 16,000 cloud services.
Cyberattacks withdraw sensitive data by leveraging cloud services. To counteract this, Skyhigh builds a behavioral baseline to detect any abnormal activities across the network. The partnership between the two companies will protect corporate clients from any suspicious activities such as data extraction and security breaches.
The PureFunds ISE Cyber Security ETF (HACK) is a portfolio of 32 stocks, including Check Point Software Technologies (CHKP), Fortinet (FTNT), and Cisco Systems (CSCO), which constitute 4.1%, 5.0%, and 4.3%, respectively, of HACK.