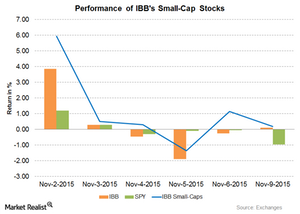 Celldex Leads the Small-Cap Stocks in IBB
By Peter Neil

Updated
IBB's small-cap stocks gain marginally
The small-cap stocks of the iShares Nasdaq Biotechnology ETF (IBB) outperformed the large-caps and gained 0.2% on November 9, 2015. IBB has 81 small-cap stocks in its portfolio with a market cap between $2 billion and $300 million. Out of 81 stocks, 40 ended up in red while 41 gave positive returns. The small-cap stocks account for 10.8% of the IBB's portfolio. The small-cap space includes Insys Therapeutics (INSY), Nektar Therapeutics (NKTR), and Ironwood Pharmaceuticals (IRWD). These three stocks gave returns of -0.4%, -0.8%, and -0.15%, respectively.
The graph above reflects the performance of the IBB ETF's small-caps compared to IBB and the SPDR S&P 500 ETF (SPY) on a day-to-day basis. Since November 2, 2015, the IBB ETF's small-caps gave returns of 6.8% whereas IBB gave a return of 1.7% and the SPY ETF gave a return of 0.1%.
Article continues below advertisement
Celldex tops the small-caps with 12.3% gains
Celldex Therapeutics (CLDX) gained 12.3% for the day. This is the second consecutive trading session the stock has gained after it presented varlilumab data at the SITC (Society for Immunotherapy of Cancer) Annual Meeting 2015. As per the press release, CLDX presented "new preclinical data on varlilumab, a fully human monoclonal agonist antibody that binds and activates CD27, a critical co-stimulatory molecule in the immune activation cascade. Results suggest that cancers may respond to CD27 immune modulation by independent mechanisms, such as immune co-stimulation and regulatory T cell (Treg) depletion. Varlilumab has the unique ability to act through both of these mechanisms."
CLDX closed at $15.5 and was trading above the 50-day moving average but below the 100-day moving average. CLDX's book value stood around $3.2. With its current price, the stock is trading at a price-to-book value ratio of 4.79x. CLDX has a weight of 0.2% in the IBB ETF's portfolio.