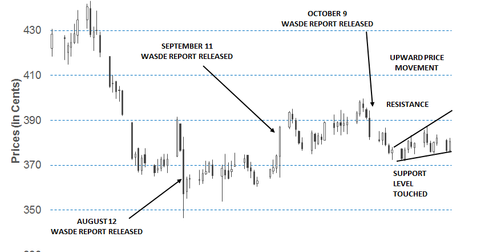 Would Buyer's Leave the Price Chase to Corn Producers?
By Sean Brown

Updated
Trend channel
The price of corn futures contracts for December delivery, trading on the CBOT (Chicago Board of Trade), was near the key support of $3.80 per bushel on November 3, 2015. The increased volatility in the corn prices is due to the corn crop. Producers have kept it from being part of the supply. In the last two days, the volume of corn contracts rose by 71.8% on the CBOT. Producers' cash requirement has kept the hold. How long will they govern corn prices?
Article continues below advertisement
Major price drivers
Weather conditions in the Midwest region in the US might remain dry. Despite the possibility of rain this week, there isn't anything to hinder the harvest progress for more than one week. Harvest activities might receive support due to the favorable weather conditions. The anticipated crop progress report also pushed factors in corn prices. The EU (European Union) doesn't have many corn stocks. It doesn't have international sales that could support corn prices in futures markets.
Corn futures prices need the demand export support that hasn't been realized due to lower wheat price sentiment and availability cues. Chinese production estimates might cause the sentiment to fall. It could receive support for US corn exports. However, corn might receive support when the harvest activity is completed. The estimates say that corn producers expect a price rise in lesser supply conditions for domestic usage.
Corn prices might be in the range of $3.75–$3.90. There's good support for corn prices at $3.75. Prices might be rising in the coming days. This would help in gaining support.
Food stock performance
Shares of Bunge (BG) fell on November 3, 2015. They continued a downward pattern over seven trading days. However, Archer Daniel Midlands (ADM) fell due to weaker quarterly results on November 3, 2015. The stocks of Tyson Foods (TSN) and ConAgra Foods (CAG) continued to rise for the second and third consecutive day. However, ETFs like the Power Shares DB Agriculture ETF (DBA) rose slightly. It maintained inconsistent behavior on November 3, 2015.