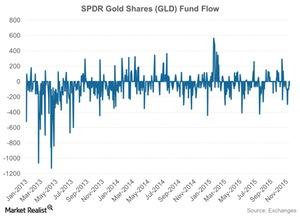 Big Investors Holding onto Gold ETFs
Hedge funds giant
Giant hedge fund investor John Paulson of Paulson & Company has been investing in the most widely traded gold ETFs such as the SPDR Gold Shares ETF (GLD) since 2009. The billionaire has been betting on a price rise amid global market uncertainty.
Gold surged almost 70% from December 2008 to June 2011. The rise was mainly due to the Federal Reserve buying debt and holding borrowing costs near the zero level. However, gold experienced a sharp fall in price after June 2011 as low inflation numbers hovered in the markets.
GLD witnessed a reduced fund flow in November 2015 as gold prices saw extended losses. The prices bottomed to $1,064 per ounce on November 17, which is the lowest level in almost six years. Above is a fund flow chart of GLD for the current year.
Article continues below advertisement
Paulson investments
The valuation of GLD shares held by Paulson & Company is close to $957 million. This position remained unchanged in the third quarter compared to the previous quarter. The hedge fund held almost 923 million shares of GLD by the end of the third quarter.
GLD has fallen 9.9% on a year-to-date basis. Silver-based ETFs such as the iShares Silver Trust (SLV) have also seen significant falls in their prices. SLV fell almost 10% on a year-to-date basis.
Paulson has made investments in companies such as AngloGold Ashanti (AU), Randgold Resources (GOLD), and IAMGOLD (IAG). These three stocks make up almost 10.3% of the VanEck Vectors Gold Miners ETF (GDX). GDX fell 35.6% on a year-to-date basis. In equities, however, Paulson reduced its stake in AngloGold Ashanti by 1 million shares during the last quarter.
With the growing bearish sentiment among the precious metals, the outlook for mining companies remains bearish. Lowered precious metals prices significantly affect the profit margins of precious metals mining companies.