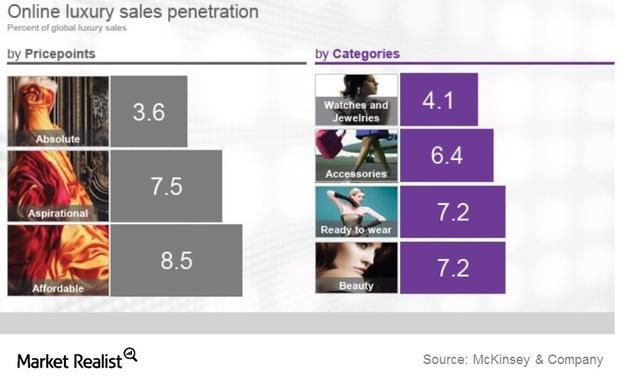 Beamly Buy: Why Coty Is Eyeing a Higher-Profile Digital Presence
By Phalguni Soni

Nov. 14 2015, Updated 10:05 a.m. ET
Coty's Beamly acquisition
As part of its corporate reorganization efforts, Coty (COTY) also announced a new division, Growth and Digital, to spur growth across brands on November 3, 2015.
On October 19, 2015, Coty announced that it had entered into a definitive agreement to acquire New York- and London-based digital marketing platform Beamly. The terms of the transaction were undisclosed.
Coty has acquired Beamly in hopes of driving higher digital engagement with customers (XLP) (FXG) (VDC) across digital channels, particularly social media. Beamly is expected to continue campaigns on behalf of clients other than Coty after the acquisition closes. Coty's stock was up 1.5% to $28.92 on October 20, 2015.
Article continues below advertisement
Digital engagement
Customer engagement across social media channels is a key sales driver, particularly for luxury goods. Those who shop for high-end merchandise are likely to surf online for products before making purchases, which makes social engagement a vital driver for building brand equity and maintaining brand image. This is partly because those who make high-end purchases have relatively greater access to smartphones and tablets as compared to a more mid-market demographic.
The Beamly acquisition will also enable Coty to launch brand-specific campaigns with targeted audiences.
Online sales opportunity
According to chairman and interim chief executive officer Bart Becht on Coty's 1Q16 earnings call, e-commerce (electronic commerce) and new retailers are key revenue drivers, "with very little growth in the brick-and-mortar segment."
As per a McKinsey & Company report, in 2014 nearly all five billion euros of growth in the global market for luxury goods was spurred by e-commerce. E-commerce sales of beauty products represent one of the most active e-commerce categories. These sales accounted for 7.2% of total beauty spending in 2014, compared to 6% for the overall global personal goods luxury market.
Peers raise digital presence
Other consumer packaged goods companies such as Procter & Gamble (PG) and Colgate-Palmolive Company (CL) are actively focusing on digital content and marketing efforts.
According to L2, P&G spends about 25%–35% of its overall marketing budget on digital content
Colgate-Palmolive has increased its digital spending as a percentage of working media from 2.5% in 2006 to 13% in 2014. The company is budgeting a ratio of 20%–25% over the period of 2015–2017.