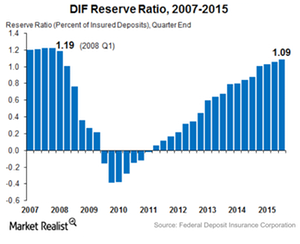 Analyzing Banks' Balance Sheet Strength in 3Q15
By Rebecca Keats

Updated
US banks' balance sheet metrics strengthened
US banks (IYG) demonstrated strong balance sheet metrics during 3Q15, due to their growth in loans and deposits. The Deposit Insurance Fund (or DIF) rose by $2.5 billion to $70.1 billion, compared to the quarter ended June 30.
This increase was primarily attributable to higher revenues from assessments. The reserve ratio increased to 1.09% during the quarter. Reserve ratio is defined as the deposit insurance fund balance as a percentage of estimated insured deposits. As required by law, the Deposit Insurance Fund targets a minimum reserve ratio of 1.35% by September 30, 2020.
Article continues below advertisement
Capital and liquidity ratios continued to improve
Big banks' (VFH) 3Q15 earnings offer strong signs that the Dodd–Frank Act is working well. Capital and liquidity is being maintained at the required regulatory levels and lending is up.
Although bank earnings have been lackluster, deposits and lending have seen healthy growth. As a result of the improved credit quality and other positive industry trends, banks have been able to build up their capital and liquidity.
Leverage ratios
Leverage ratios, which measure the quality of a bank's assets, have also been improving. Leverage ratios are defined as the proportion of a bank's Tier I capital ratio to its total assets. JPMorgan Chase's (JPM) leverage ratio increased to 6.3% during 3Q15 from 6.0% in 2Q15 and 5.5% in 3Q14.
Citigroup's (C) leverage ratio improved from 5.98% in 3Q14 to 6.8% in 3Q15. In comparison, Bank of America (BAC) reported a leverage ratio of 6.4%, up from 5.6% in 3Q14.
Balance sheet growth funded by growth in retail deposits
Total deposits increased by 0.5%, or $4.7 billion, during 3Q15. This was primarily driven by growth in smaller denomination deposits. Large banks reduced their non-deposit liabilities by $32.8 billion, leading to a decline in 3.9% in borrowings from Federal Home Loan Banks and 6.3% in securities sold under repurchase agreements.