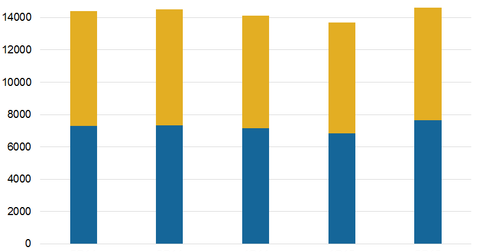 How AIG Could Position Itself following Icahn's Call for a Split
By Robert Karr

Updated
Addressing concerns
It appears that AIG's (AIG) management will be more inclined to continue as a consolidated entity and to improve returns for its shareholders in its current form. The company reports its third quarter earnings on November 3, 2015, and Hancock is expected to address the concerns of Carl Icahn and John Paulson during the conference call.
AIG (AIG) has improved its return on equity from 6% in 2011 to 8.8% in 2Q15. On a one-year forward price-to-earning basis, AIG is trading at 11.8x on par with its competitors. But AIG's shares appear to be currently undervalued despite the improvements in its financial metrics.
Article continues below advertisement
MetLife—a similar case
MetLife (MET), the largest life insurer in the US by assets, has also been classified as an SIFI (systemically important financial institution). The company is suing the federal government over the label by stating that the label would drive up financial protection costs for its customers. AIG hasn't followed the same course. However, Prudential Financial (PRU) could follow if MetLife wins its battle.
Icahn's influence
Carl Icahn is an activist investor who stages campaigns in order to help valuation of its holdings. Over the past couple of years, the billionaire investor has targeted Hertz Global Holdings (HTZ), Gannett Company (GCI), Family Dollar Stores (FDO), EBay (EBAY), and Freeport-McMoRan (FCX). Icahn has a strong point in case of AIG, because the companies held under SIFI regulations tend to generate lower than the potential results due to high oversight.
According to our data, AIG appears that it will continue in its current form due to the comfort it provides to management if one division performs below expectations, in addition to the costs and risks associated with a split.
AIG's stock performance will depend upon how well the market receives the arguments provided by Hancock and his team. If the company continues to report strong numbers and improve its balance sheet, then its valuations gap could decline compared to other players in the insurance industry (XLF).