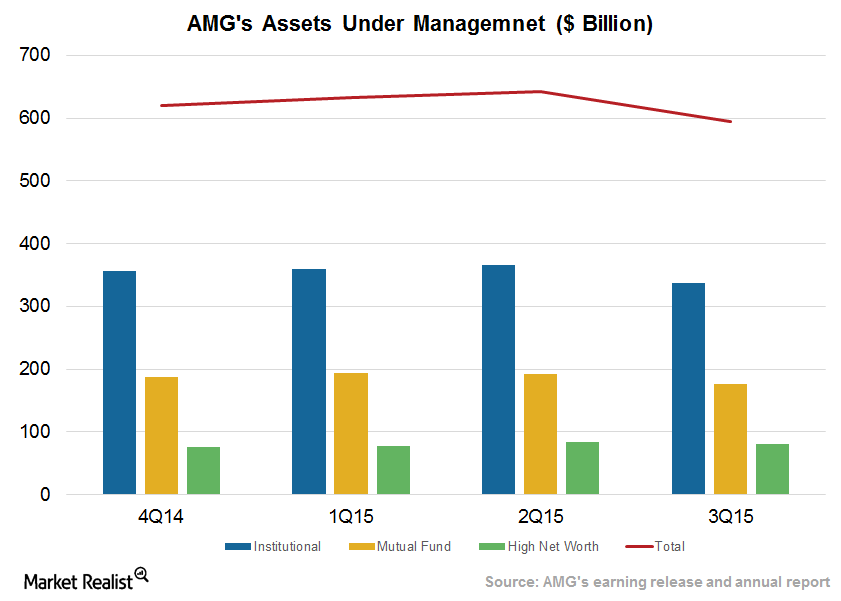 Affiliated Managers Adds New Affiliates to Boost Returns
By Robert Karr

Nov. 11 2015, Published 9:49 a.m. ET
Assets under management
On November 9, Affiliated Managers Group (AMG) announced that net cash flows from clients stood negative at $5.3 billion in the third quarter of 2015. The company's assets under management fell to $594 billion as compared to $643 billion in the previous quarter. They were mainly impacted by negative client cash flows and adverse market changes resulting in a fall of $43 billion in portfolio valuations.
In 9M15, Affiliated Managers attracted positive cash flows of $3.9 billion, though market changes led to a fall of $36 billion in valuations.
Article continues below advertisement
On an absolute basis, the Mutual Funds segment saw the highest outflow of $3.3 billion, followed by the Institutional segment, with an outflow of $2.6 billion in 3Q15. However, the High Net Worth Individuals segment saw inflows of $385 million. All three segments saw a fall in their valuations due to a stock market rout in US and global stock markets.
New affiliates
Unlike other asset managers, with their own product offerings and fund management offerings, AMG invests in boutique investment management firms to generate superior returns for investors. The number of the company's boutique affiliates has risen over the past decade, providing customized and alternative investment options. AMG could attract clients who are looking to invest in boutiques by leveraging this performance over the years.
Affiliated Managers announced the addition of new boutique firms including Systematica Investments, Abax Investments, and Ivory Investment Management. For more details:
Systematica is led by Leda Braga and is engaged in systematic trading. The company manages $8.8 billion in assets through trend-following algorithmic trading strategies and quantitative equity investing.
Abax is based in Cape Town, South Africa. The firm manages South African and global equities equaling $5.4 billion. It utilizes fundamental research to invest in companies with strong secular growth opportunities.
Ivory is led by Curtis Macnguyen, and manages long/short equity, with assets under management of $3.6 billion and a long track record of alpha generation.
Affiliated Managers' assets fell in line with the market's performance. In comparison, its competitors reported the following assets under management:
BlackRock (BLK) at $4.5 trillion
T. Rowe Price (TROW) at $773 billion
Bank of New York Mellon (BK) at $1.7 trillion
Together, these companies form 0.66% of the SPDR S&P 500 ETF (SPY).