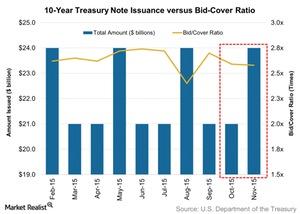 10-Year T-Notes: Highest Yield Since December 2014
By Lynn Noah

Dec. 4 2020, Updated 10:42 a.m. ET
Ten-year T-notes
The US Department of the Treasury conducts an auction for ten-year Treasury notes, or T-notes, once a month. The yield on the ten-year T-notes is considered to be a benchmark in the financial markets.
Article continues below advertisement
Key takeaways
On November 10, ten-year T-notes worth $24 billion were auctioned—$3 billion higher than the previous month.
The coupon rate came in at 2.3%—higher compared to 2.0% in October's auction.
The high yield stood at 2.3%—higher compared to 2.1% in the previous month's auction. It was the highest level since December 2014.
The bid-to-cover ratio fell slightly compared to the previous month. The ratio was 2.58x compared to 2.59x in October. This ratio shows the overall demand for the auction.
Yield analysis
The yield on the ten-year T-note fell by four basis points in the secondary market from the previous day to 2.3% on November 10.
Article continues below advertisement
Demand analysis
The market demand rose for ten-year T-notes from 72.5% in October to 74.8% in November. The share of indirect bidders fell slightly to 60.5% in November from 62.2% in October. The direct bids rose to 14.3% in November from 10.3% in October.
Indirect bidders include bids from foreign central banks. Direct bids are from domestic money managers like State Street (STT) and BlackRock (BLK).
Due to a rise in the market demand, the share of primary dealers fell to 25.2% in November from 27.5% in October. Primary dealers act as market makers for the auctioned securities. They take up securities' excess supply. They include financial institutions like Morgan Stanley (MS) and Credit Suisse (CS).