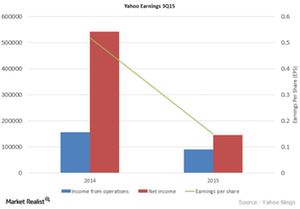 Yahoo! Insight: Operating Income Negative Due to Non-Core Expenses
By Parker Thomas

Oct. 21 2015, Published 3:45 p.m. ET
The company's operations
After the earnings announcement on October 20, 2015, Yahoo's stock price fell by 1.31% in after-hours trading. Yahoo's expenses from operations remained low in 3Q15 compared to the previous year. This is true in both absolute as well as a relative basis. However, non-core expenses remained high.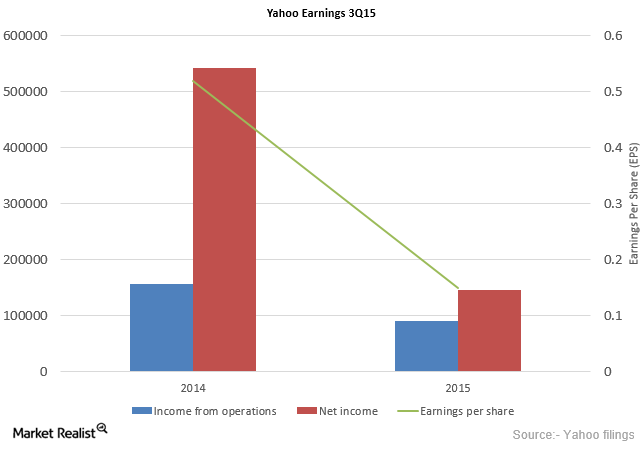 Article continues below advertisement
Further analysis
Non-core expenses turn generated a negative operating income of $86.3 million compared to $42.1 million in the same quarter last year on a GAAP (generally accepted accounting principles) basis. However, income from operations on a non-GAAP basis was $91.8 million compared to $156.4 million in the previous year. The majority of the non-core expenses incurred from asset impairment charges of $41.7 million and restructuring charges of $26 million compared to $8 million as stood in the previous year.
Thin bottom line compared to last year
The company's report last year showed an income of $10.3 billion under the other incomes category, and $4.0 billion under earnings in equity interest. These two inflows from the previous year have comparatively narrowed the company's bottom line to $78.1 million in 3Q15, compared to $6.7 billion in the same quarter the previous year. Yahoo generated diluted earnings per share (or EPS) of $0.08 compared to $6.7 in the previous year on a GAAP basis, whereas non-GAAP EPS remains at $0.15 in 3Q15, compared to 0.52 in the previous year.
The company's cash and cash equivalents stood at $1.3 billion, compared to $2.7 billion in the previous year. Cash flow from investing activities remained high this quarter with the purchase of marketable security of ~$1.2 billion, followed by the acquisition of property and equipment of $160 million. Cash flow from operating activities stood at $137 million compared to $289 million in the same quarter the previous year. This fall was due to high expenses incurred from non-core activities.
The First Trust ISE Cloud Computing Index Fund (SKYY) is a portfolio of 36 stocks, where the top four stocks Amazon (AMZN), Netflix (NFLX), Facebook (FB), and Google (GOOG) constitute 4.98%, 4.54%, 4.54, and 4.52%, respectively, of the fund.