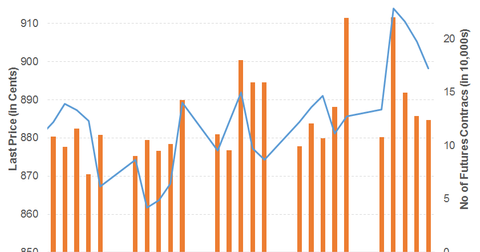 Will Soybean Prices Gain Back the Support of $9 per bushel?
By Sean Brown

Updated
Soybean prices fall
The Soybean December Futures Contracts, trading on the CBOT (Chicago Board of Trade), fell slightly by 0.77% and settled at $8.98 per bushel on October 16, 2015. Soybean Futures prices fell as a result of rising supply sentiment due to early harvesting activity. ETFs like the Teucrium Soybean Fund (SOYB) followed the CBOT and closed lower by 0.50% on October 16, 2015.
The USDA's Weekly Export Sales report was released on October 16, 2015. Soybean's net export sales were 1,476,800 metric tons. They rose by 15% from the previous week. They were 0.66% higher from the prior four-week average for the week ending on October 8, 2015. Analysts' expected weekly export sales in the range of 1,000,000–1,500,000 metric tons. This remained on the higher side, but within the expectations. The weekly soybean export sales also rose by 74.3% compared to last week and 180.7% from prior four-week average.
The principal destinations for the week from October 2–8, 2015, were China, Russia, Japan, the Netherlands, and Thailand. The primary trade destinations were China, Japan, the Netherlands, Mexico, and Russia.
Article continues below advertisement
The overall export sales were in line with the expectations, despite soybean prices falling marginally due to the rising supply sentiment on account of the early harvest progress. With this fall in soybean futures, soybeans lost an important pivotal point of $9 per bushel. This was a psychological barrier. With the favorable crop progress report expectations adding to the supply sentiment, it might not get back to the level soon if the international demand doesn't offer support.
With few weather disturbances favoring the harvest, the crop progress report will release on October 19, 2015. It's expected to be highly progressive. While soybeans have already been trending above the average results, the expectations would be to complete the harvesting in October. Last week, the crop progress report indicated 42% harvest progress. Analysts' expectations are higher than the USDA's report.
Impact on stocks and ETFs