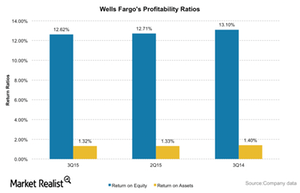 Cost-Cutting Improves Wells Fargo's Profitability
By Rebecca Keats

Updated
Profitability improves despite low interest rates and global weakness
In this part of the series, we'll take a look at Wells Fargo's (WFC) profitability ratios in 3Q15. A key element gripping the US banking sector (XLF) is the prevalent near-zero interest rate environment that's acting as a drag on bank earnings. US banks earn lower returns on their assets as well as lower interest-based income when interest rates are low.
In order to boost profitability in a low interest rate environment, banks are reducing expenses by restructuring their businesses and focusing on their cores.
Article continues below advertisement
Return ratios for Wells Fargo
Cost-cutting abilities
Expense control has been a key focus for US banks (XLF) as they struggle to remain profitable while containing rising costs in an uncertain and volatile environment. Wall Street analysts (SPY) keep a close eye on efficiency ratios of banks. This ratio is especially important, as low interest rates and global events have eaten into banks' revenues.
Efficiency ratio is a measure of operating expenses as a percent of net revenue. It shows how revenues fuel a bank's operating expenses. A lower percentage is better, as it means lower expenses compared to revenues.
For 3Q15, Wells Fargo reported an efficiency ratio of 56.7%, lower than the 58.5% reported in the previous quarter. This is the lowest among its peer group, which includes J.P. Morgan (JPM), Citigroup (C), Bank of America (BAC), and Goldman Sachs (GS).
Wells Fargo expects to operate at the higher end of its targeted efficiency ratio range of -55% to 59% for the full year 2015.