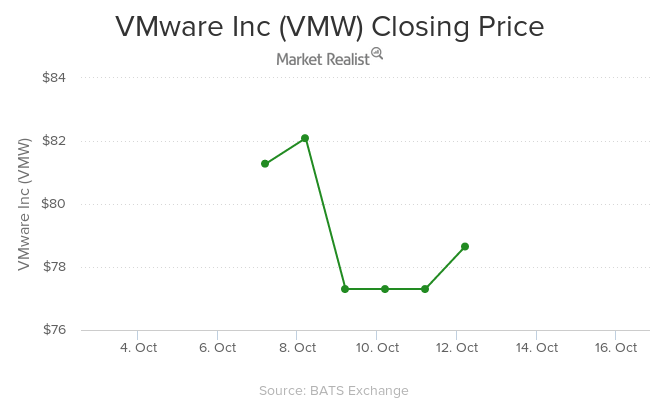 VMware to Remain Independent following Dell-EMC Merger
By Puja Tayal

Oct. 13 2015, Published 8:56 a.m. ET
VMware to remain independent  
Dell, MSD Partners, and private-equity firm Silver Lake have agreed to acquire EMC (EMC) for approximately $67 billion, making it the most expensive technology merger of all time. Following the merger, EMC will go private while VMware (VMW) will continue to be independent and trade publicly. The combined go-to-market capabilities and reachability will benefit VMware shareholders.
[marketrealist-chart id=719652]
After news of the deal was leaked on October 8, 2015, VMware shares fell ~6% to $77.3 the next day.
Article continues below advertisement
What's in store for shareholders? 
The deal will be financed through a combination of cash, debt, and stocks. Dell and partners will invest more than $3 billion as new equity and take on massive debt of $45 billion for the deal. The combined company will focus on repaying the debt within two years after the transaction is closed.
For each EMC share, shareholders will receive cash of $24.05 and $9.10 of tracking stock linked to EMC's stake in the VMware business. This will value each EMC share at $33.15—a 28% premium from the share price before the news was announced.
Merger details
The deal has been approved by EMC's board and is now subject to regulatory and shareholder approval. The transaction is expected to be completed sometime between May and October 2016.
The combined entity will be headed by Dell's founder, chairman, and chief executive officer Michael Dell and will be headquartered in Hopkinton, Massachusetts. Dell will continue to be headquartered in Round Rock, Texas. EMC CEO Joe Tucci, who had postponed his retirement, will retain his position until the merger is completed.
The combination of the two dominant players will create the world's largest private company offering integrated technology solutions. This will create tough competition for HP (HPQ), IBM (IBM), and Oracle (ORCL), which provide integrated technology solutions.
In the next part of the series, we'll look at the synergies of the deal for both companies.
You can invest in VMware through the Vanguard Extended Market ETF (VXF), which has a 0.16% exposure in the company's stock.