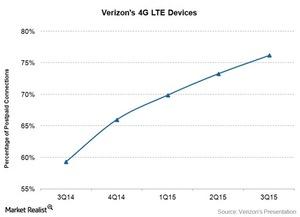 Verizon's 4G LTE Network: A Look at Traffic Growth in 3Q15
By Ray Sheffer

Oct. 28 2015, Updated 8:11 a.m. ET
4G LTE Penetration
In the last part of this series, we learned about Verizon's (VZ) preference for the mid-band AWS (Advanced Wireless Services) spectrum relative to the 600 MHz or megahertz spectrum holdings, which will be auctioned by the FCC (Federal Communications Commission) in 2016. The mid-band spectrum is of particular importance for carriers that cater to users of smartphones such as Apple's (AAPL) iPhones and Google's (GOOG) (GOOGL) Android. These users use lots of data.
Now let's look at what kind of traffic Verizon is seeing on his 4G LTE (Long-Term Evolution) network.
The traffic on Verizon's 4G LTE network continued to grow in 3Q15. According to the company, around ~89% of the total network traffic was on its 4G LTE network as of October 20, 2015.
Plus, as per the company, the YoY or year-over-year growth of traffic on this network was a significant ~75% in 3Q15.
Article continues below advertisement
Solid adoption of 4G LTE devices
The growth of 4G LTE devices on Verizon's network remained high in 3Q15. The telecom company had ~80 million LTE devices in 3Q15 compared to ~59.4 million in 3Q14. Moreover, a significant ~90% of Verizon smartphone users were on the LTE network at the end of the quarter.
These devices' penetration in Verizon's postpaid base also continued to grow both sequentially and YoY. As you can see in the above chart, the penetration of these devices increased from ~59.3% in 3Q14 to ~76.2% in 3Q15.
Instead of taking on direct exposure to Verizon's stock, you may take on diversified exposure to the telecom company by investing in the iShares MSCI USA Minimum Volatility ETF (USMV). The ETF invested ~1.9% of its portfolio in the telecom company at the end of August 2015.