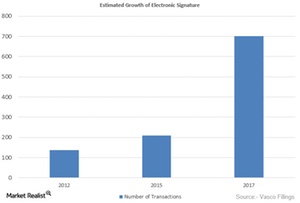 VASCO Data Security to Acquire Silanis Technology
By Parker Thomas

Oct. 21 2015, Updated 9:05 a.m. ET
Acquisition will bring more customers on board
VASCO Data Security (VDSI), a provider of strong authentication, e-signature, and identity management, announced on October 6, 2015, it will acquire the private firm Silanis Technology. Silanis Technology is a leading provider of e-signature and digital transaction solutions that are trusted by some of the largest banks, insurance agencies, and government entities. The acquisition will allow VASCO to deliver new solutions that are in high demand within the financial service customer base. Moreover, it will strengthen its revenue base in North America and bring more customers on board from its core banking business.
Article continues below advertisement
Established synergy between the two enterprises
With the increase in online banking, VASCO has estimated a huge demand for digital transaction solutions among its customer base. Both VASCO's and Silanis's objective address the needs of enterprises conducting secure transactions while following strict regulatory and compliance requirements. There is a significant synergy between the two firms. Silanis focuses on generating recurring revenue through SaaS (software-as-a-service) and an on-premise subscription model, which in turn will help VASCO to increase its operating income.
Silanis's financials and agreement
Silanis is expected to generate $16 million in revenue for the year ending 2015, per the Canadian Generally Accepted Accounting Rule. This represents an increase of approximately 30% over the previous year. Moreover, it is anticipating an increase of 25% in revenue for the year 2016 on a stand-alone basis. Craig Le Clair, Principal Analyst at Forrester Research, reported 53% growth in the use of e-signatures since 2012, with the number of transactions settling at 210 million. This figure is anticipated to increase to 700 million by 2017.
Per the agreement, VASCO will acquire Silanis in all-cash deal. VASCO will buy all the outstanding share of Silanis for a cash sum of $85 million. VASCO will finance the acquisition from its existing available cash balance.
The ISE Cyber Security ETF (HACK) is a portfolio of 32 stocks, of which Check Point (CHKP), Fortinet (FTNT), and Cisco Systems (CSCO) constitute 4.1%, 5.0%, and 4.3%, respectively.