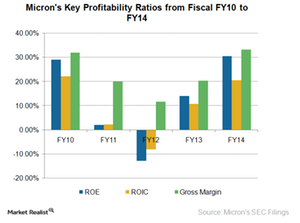 Understanding Micron's Key Profitability Ratios
By Puja Tayal

Updated
Profitability Ratios
Previously in this series, we looked at Micron Technology's (MU) future spending plans based on its forecast for the DRAM and NAND space. We'll now examine some key profitability ratios that indicate the company's future earnings potential.
Micron has volatile earnings because the company is largely dependent on the average selling prices of memory products. The memory market is dominated by Korean players Samsung Electronics (SSNLF) and SK Hynix, as they have the advantage of low-cost manufacturing. Compared to these two players, Micron has a high cost of manufacturing, which has affected its earnings. However, it is ahead of Toshiba Corporation (TOSBF) in terms of technology and market share.
Article continues below advertisement
ROE
A company's ROE (return on equity) ratio determines how good it is at managing operations. As the above graph shows, Micron's ROE ratio has been fluctuating a lot. In fiscal 2013, the company's net income increased because the acquisition of Elpida almost doubled Micron's size in the DRAM space. In fiscal 2014, its ROE ratio increased because DRAM prices increased due to a shortage in supply.
However, in fiscal 2011 the ratio fell due to the acquisition of Numonyx. In fiscal 2012, the ratio turned negative because the slowdown in PC (personal computer) market and the popularity of NAND affected the demand for DRAM and reduced DRAM prices by 45%.
ROIC
A company's ROIC (return on invested capital) indicates how efficiently the company invests capital—both debt and equity—to generate maximum profits. Micron's ROIC was negative in fiscal 2012 because its sales were hit by the slowdown in demand for PC DRAM. However, the ratio almost doubled in fiscal 2014, to 20.64% from 10.76% in 2013, which was driven by increased profitability from rising DRAM prices.
Gross margin
A company's gross margin determines its ability to generate profits by reducing manufacturing cost. Micron earned a gross margin of 33.24% in fiscal 2014, which is lower than rival SanDisk (SNDK), who reported a gross margin of 46.3% during the same period.
In fiscal 2012, Micron reported its lowest gross margin in the past five years—11.76%—while SanDisk reported a gross margin of 43.1% during the same period.
You can gain exposure in Micron Technology by investing in the PowerShares QQQ Trust, Series 1 (QQQ), which has 0.34% exposure in the company.
In the next and final part of this series, we'll examine Micron's financial stability.