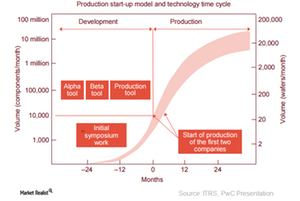 How Technology Innovations Represent Key Growth Drivers for Micron
By Puja Tayal

Updated
Technology innovation
Technology innovations and upgrades are ongoing processes in the semiconductor space. Micron Technology (MU) focuses its R&D (research and development) efforts on developing advanced product designs, smaller line-width process technologies, new memory structures, materials, and packages. This ensures smooth transitions to production.
Article continues below advertisement
Technology time cycle
According to Moore's law, it takes approximately two and a half years for any new technology to be developed. In semiconductors, with every new step forward in technology, the size of the chip reduces. Smaller size means more chips can be built on the same wafer, thus reducing cost per gigabit. Smaller chips are also denser, which means improved performance and reduced power consumption. In this sense, the earliest adopters of new technology hold the advantage of capturing more market share in that particular sector and thus generating maximum returns.
Technology cost-sharing agreement
The cost of developing a new technology is very high. Micron controls this cost through technology cost-sharing agreement. The company has partnered with Intel Corporation (INTC) to share the cost of product design and R&D process technology for NAND Flash and emerging technologies. This partnership reduced Micron's overall R&D expense by $137 million in fiscal 2014.
This joint venture also launched 3D NAND technology in March 2015. Meanwhile, Toshiba Corporation (TOSBF) and SanDisk (SNDK) also plan to start mass production of their 3D NAND Flash technology in 2016. Micron and Intel have also developed a breakthrough technology 3D XPoint, which, it is believed, should replace NAND and DRAM in the future.
New process technologies
In 4Q14, Micron started manufacturing DRAM on 20-nm (nanometers) line-widths. It then introduced 16-nm line-width technology in 2015. While the company lags behind rival Samsung Electronics (SSNLF) in the development of 20-nm process technology, it's ahead of SK Hynix, who will start implementing the technology in 2H15.
Micron has its eyes set on beating Samsung in the adoption of 16-nm node. The company launched its 16-nm triple level cell (or TLC) NAND technology in June 2015, ahead of all competitors. By employing this technology, Micron can manufacture TLC NAND with the lowest cost-per-gate prevalent in this space.
Micron Technology (MU) has R&D and product design centers across the world, with its largest R&D centers located in the US and Japan (DXJ).
Read the next part of this series for a discussion of Micron's manufacturing base in the US and overseas.