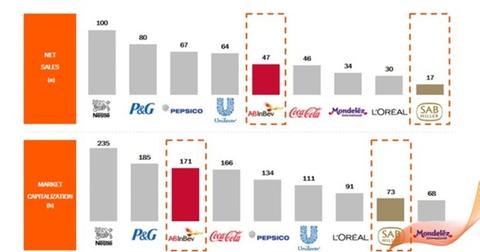 The Tailwinds Favoring an ABI–SABMiller Transaction
By Phalguni Soni

Updated
Profitability impact
A possible combination between Anheuser-Busch InBev (BUD) (AHBIF) (ABI.BR), or ABI, and SABMiller (SBMRY) (SAB.L) has several points going in its favor. In addition to the 44% premium on SABMiller's share price on September 14, the chief factor favoring a deal would be ABI's experience in acquiring companies and their subsequent integration.
ABI is well-known for its highly profitable operations, having some of the best margins in the consumer staples (VDC) (XLP) (FXG) sector. The company's ability to generate synergies and cut costs also resulted in enhancing the profitability of the target company in the process.
Article continues below advertisement
Financing the deal
ABI expects to finance the transaction using a combination of internally generated cash and external debt. At a conference call to analysts on October 7, Felipe Dutra, ABI's chief financial officer, mentioned that the company was quite confident of arranging the debt required for funding the deal.
ABI has also indicated that the partial shares option, which we discussed in Part 2, is one of the critical pieces of its fundraising plan. Because the partial shares alternative is mainly aimed at larger stakeholders Altria and BevCo, who hold ~40.5% of the shareholding in SABMiller, providing the alternative should enable ABI to cut down its funding and debt requirement.
Altria backs ABI's bid
Altria's (MO) publicly voiced support in the deal is critical, as we discussed in Part 4. Also, the three directors who were nominated to SABMiller's board by Altria haven't supported the board's decision to reject ABI's bid.
Megabrewer
A possible combination between Anheuser-Busch InBev and SABMiller would potentially create the largest brewer in the world with pro forma sales of $64 billion and EBITDA of $24 billion.[1. Source: ABI, Based on the last fiscal year results for both companies] The combined market cap of the two companies based on share prices prevailing on September 14 would be $241 billion, making it possibly the largest consumer products firm in the world.
However, ABI must overcome some significant bottlenecks before it can hit the home stretch on the transaction. The next article discusses these bottlenecks.