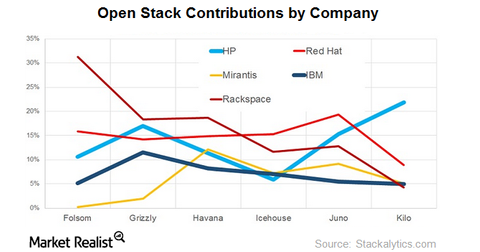 With the StrongLoop Buyout, IBM Continues to Focus on Open Source
By Anne Shields

Updated
With StrongLoop's acquisition, IBM continues its journey in open source space
In the prior part of this series, we looked at IBM's (IBM) recent acquisition of StrongLoop. StrongLoop, by using open source JavaScript programming language Node.js, specializes in providing services and application development software to enterprises. Node.js enables developers to build APIs (application programming interfaces) to suit any requirement in the Java world.
Juan Carlos Soto, StrongLoop's chief executive officer, stated, "With this acquisition, the industry benefits from Node.js' formal entry into the mainstream enterprise." IBM, a founding member of Node.js Foundation, aims to strengthen its ties with the open source community through StrongLoop's acquisition and its integration with the majority of its offerings.
Article continues below advertisement
IBM's contribution to OpenStack space is on a decline
As the above graph shows, IBM's contribution to the OpenStack code base compared to its peers has been on a decline. On the other hand, Hewlett-Packard's (HPQ) contribution has increased.
OpenStack is believed to be a key component of IBM's cloud software portfolio. Through the StrongLoop acquisition, IBM intends to highlight that it will continue to invest in this rapidly growing space. As we've stated before, IBM, Rackspace (RAX), Red Hat (RHT), Hewlett-Packard (HPQ), and Mirantis are the top five contributors to the OpenStack space. Their relative contributions to the OpenStack space is shown in the aboave graph.
Even a company like Microsoft (MSFT), which is considered a leading player in the enterprise software space, has dropped its reluctance to support the open source software movement. With its Windows 10 announcement in January 2015, Microsoft made explicit references to the makers and developers who build hardware and software for everyone.
You can consider investing in the SPDR S&P 500 ETF (SPY) to gain exposure to the technology sector. The ETF invests about 18% of its holdings in the technology sector. You can consider investing in the iShares US Technology ETF (IYW) to gain exposure to IBM. IYW invests about 4.2% of its holdings in IBM.