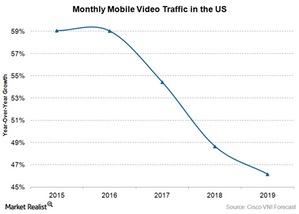 Sprint Unlimited Plans: Monthly Prices Go Up on October 16
By Ray Sheffer

Oct. 15 2015, Published 11:33 a.m. ET
Sprint's Unlimited Plans
In this series, we'll look at some October 2015 updates on Sprint Corporation (S) and Verizon Communications (VZ). Let's start with Sprint.
Sprint finally moved ahead and announced an increase in the price of its unlimited plans for voice, text, and data. According to the company's press release, "Beginning October 16, the $60 Unlimited Plan will increase to $70/month." The company also mentioned that "current Sprint customers already on the Sprint $60 Unlimited Plan will be able to remain on the plan at the $60/month rate when the new price comes into effect October 16." Based on certain requirements, these customers "also may activate a new phone and remain on the $60 Unlimited Plan."
Article continues below advertisement
Sprint's unlimited plans and network traffic
One of the reasons Sprint is giving these unlimited plans a rate hike is that it needs to manage its network traffic, which is anticipated to grow significantly in the short- and medium-terms due to videos.
The wireless carriers have to make capacity additions to their networks to handle increasing video traffic. Video is a fast-growing source of network traffic for these wireless players.
According to Cisco System's (CSCO) Visual Networking Index, and as the above graph shows, the expected annual growth rate of mobile video traffic in the US should be higher than 45% during the 2015–2019 period. Specifically, this monthly video traffic is expected to grow from ~0.32 exabytes in 2014 to ~2.7 exabytes in 2019. This gives an average annual growth rate of ~53% during this period.  We should also note that video traffic currently dominates the US mobile segment. At the end of 2014, video was ~60% of total US mobile data traffic.
Instead of taking a direct exposure to Sprint's stock, you may consider taking a diversified exposure to the telecommunications company by investing in the iShares U.S. Telecommunications ETF (IYZ), which had ~5% of its holdings in Sprint (S) at the end of August 2015.
Continue to the next part of this series for a comparison of the unlimited plans of Sprint and T-Mobile.