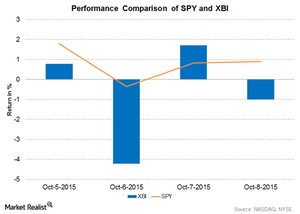 SPDR S&P Biotech ETF (XBI) Had a Mixed Day on October 8
By Peter Neil

Nov. 20 2020, Updated 5:19 p.m. ET
XBI loses 1.0%
The SPDR S&P Biotech ETF (XBI) had a mixed day on October 8, 2015. Of the 101 holdings, 32 stocks ended up in green, and 69 stocks ended up in red. But overall, XBI fell 1.0% for the day.
The average return on the trailing five-day basis stood at 2.0%. In contrast, the broader market representative, the SPDR S&P 500 ETF (SPY), rose 0.9% for the day.
The above graph reflects the daily performance of XBI and SPY since October 5, 2015.
Article continues below advertisement
Neurocrine Biosciences rises 12%
Neurocrine Biosciences (NBIX) was the outperformer on October 8, 2015, rising 12%. The stock rose after the company announced positive results from its Phase III kinetic study of NBI-98854. According to an October 8 press release, "NBI-98854, a highly selective small molecule VMAT2 inhibitor, showed a statistically significant reduction in tardive dyskinesia during the six weeks of placebo-controlled treatment in the Kinect 3 clinical trial. This Phase III trial included moderate to severe tardive dyskinesia patients with underlying schizophrenia, schizoaffective disorder, bipolar or major depressive disorder."
The company went on to say, "The pre-specified primary efficacy endpoint was the change-from-baseline in the Abnormal Involuntary Movement Scale (AIMS) at Week 6 in the 80mg once-daily dosing group compared to placebo as assessed by central blinded video raters. The AIMS ratings at Week 6 for the 80mg once-daily NBI-98854 intention-to-treat (ITT) population was reduced 3.1 points (Least-Squares Mean) more than placebo (p<0.0001)."
The stock closed on October 8 at $43.60 and was trading below the 20-day, 50-day, and 100-day moving averages. There was a big spike in trading volumes with ~7.6 million shares being traded against the five-day average trading volume of ~2.6 million shares per day. NBIX has a weight of 0.93% in XBI's portfolio.
Some of the other stocks that rose on October 8 were Alnylam Pharmaceuticals (ALNY), Regeneron (REGN), and Baxalta (BXLT), with returns of 2.0%, 0.5% and 1.1%, respectively.