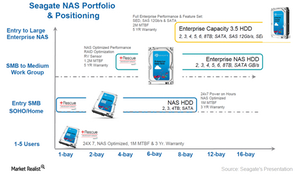 Seagate's Must-Know Strategy to Remain Competitive
By Puja Tayal

Updated
Fiscal 1Q16 activity updates
In the previous part of this series, we saw that Seagate Technology's (STX) lower-than-expected sales could give rival Western Digital (WDC) a competitive edge. We'll now look at the strategy Seagate adopted during the quarter ended October 2, 2015, to remain competitive in the HDD (hard disk drive) space.
Article continues below advertisement
Dot Hill acquisition
The major activity from Seagate over the quarter was the acquisition of high-end SAN (storage area network) storage solutions provider Dot Hill for approximately $694 million in cash in August 2015. The acquisition consideration is a 50% premium over the average stock price of the preceding three months, which is considered high.
Seagate should benefit from Dot Hill's portfolio of external storage array-based systems and software products. Dot Hill's products should complement Seagate's storage systems and add value to its combined customer base of other equipment manufacturers.
Acquisitions are a common strategy for technology companies to expand their product portfolios. The industry recently witnessed its biggest-ever merger between Dell and EMC (EMC). WDC is rumored to be in talks with Sandisk (SNDK) over a possible acquisition.
New 8 TB HDD
In September 2015, Seagate announced an enterprise 8 TB (terabyte) HDD to tap the growing demand from the enterprise segment. These enterprise-quality drives sell at a higher margin and could boost the company's gross margin.
The product will face competition from Hitachi Global Storage Technologies' 10 TB HDD.
Job cuts
Seagate announced plans to cut 1,000 jobs worldwide. In September 2015, the company announced 70 layoffs at its design center in Longmont, Colorado, where it employs 1,400 people.
The Benchmark Company analyst Mark Miller highlighted that Seagate has reported a more-than-35% decline in earnings over the past four years, whereas Western Digital has reported a single-digit decline in earnings during the same period. Moreover, the $694 million acquisition has strained Seagate's cash position, encouraging it to implement cost cutting measures.
You can invest in Seagate Technology through the Vanguard High Dividend Yield ETF (VYM), which has 0.17% exposure to the company's stock.