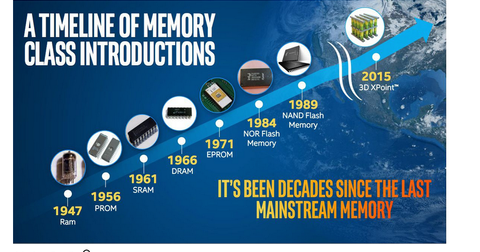 Will SanDisk-HP Partnership Threaten Intel-Micron Partnership?
By Anne Shields

Updated
Why vendors are looking at a viable replacement for DRAM
Previously in the series, we discussed the recently announced partnership between SanDisk (SNDK) and HP (HPQ) to promote storage class memory (or SCM) technology.
In 2010, HP entered into a partnership with Hynix Semiconductor to develop memristor. However, no product made it to the market as a result of this partnership. Coming to the resistive memory market, SanDisk and HP are not the only companies to explore a cheaper, more viable, and more durable non-volatile alternative to dynamic random access memory (or DRAM).
Article continues below advertisement
The DRAM space is an oligopolistic space. The top three players in the DRAM market, Samsung Electronics (SSNLF), SK Hynix Semiconductor, and Micron Technology, together now control more than 90% of the market. The declining popularity and sluggish growth in the PC market due to the SMAC (social, mobile, analytics, and cloud) revolution has caused an oversupply and declining demand for DRAM chips. Oversupply eats into producers' profit margins. Plus, an increase in mobile DRAM sales is putting pressure on DRAM prices, consequently impacting semiconductor companies.
Memory market is going through a disruption
In July 2015, Intel (INTC) and Micron Technology (MU) joined hands. The Intel-Micron partnership led to the announcement of new 3D XPoint memory or 3D Cross Point memory. 3D XPoint memory is 128-gigabit nonvolatile memory (or NVM).
3D XPoint offers higher performance than flash. NAND's latency is measured in tens of microseconds, whereas 3D XPoint latency is measured in tens of nanoseconds. Also, unlike DRAM and NAND flash, 3D XPoint keeps all the data even after the power is switched off.
In December 2014, Crossbar, a developer of RRAM technology, said some of its non-volatile 3D Restive RAM (or 3D RRAM) products would hit the market by 2016.
You can consider investing in the QQQ PowerShares ETF (QQQ) to gain exposure to Micron Technology. QQQ invests about 0.59% of its holdings in Micron.