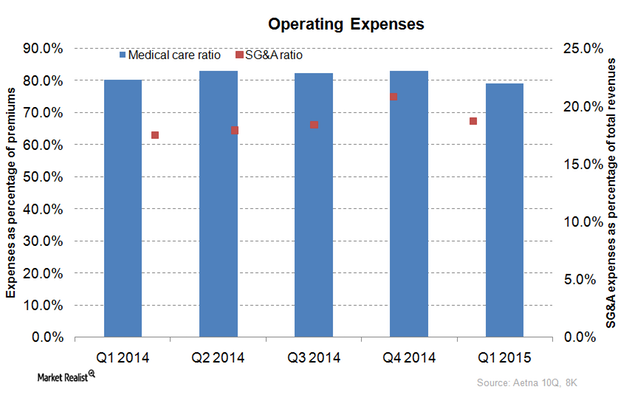 Reduced Expenses Lead to Aetna's Higher 1Q15 Margins
By Margaret Patrick

Oct. 11 2020, Updated 12:20 p.m. ET
EBITDA margins
Aetna's (AET) EBITDA (earnings before interest, taxes, depreciation, and amortization) margins rose from 10.6% in 1Q14 to 11.3% in 1Q15. In addition to enrollment growth, an effective cost optimization strategy in 1Q15 led to the company's high EBITDA margins.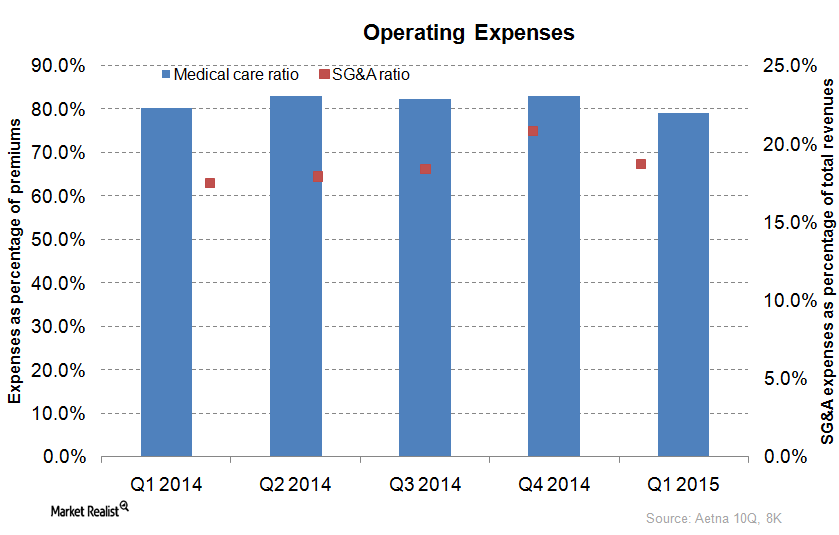 Aetna's medical care ratio declined from 80.4% in 1Q14 to 79.1% in 1Q15. The company's SG&A (selling, general, and administration) ratio increased from 17.5% to 18.7% in the same period.
Article continues below advertisement
Medical care ratio
In 1Q15, Aetna's medical care ratio for its commercial business was 77.4%. Its government-sponsored business was 81.3%, resulting in a combined ratio of 79.1%. To know more about the medical care ratio, read How Does Aetna Compare to Its Peers in Medical Care Ratio?
Aetna's commercial premiums increased by $395 million in 1Q15 compared to 1Q14. Commercial medical ratio, however, remained almost flat at 77.4% compared to 77.2% in 1Q14. This was mainly due to the impact of improved underwriting margins that were offset by the risk-sharing 3R program mandated by the ACA (Affordable Care Act).
Aetna recorded $198 million payable in 1Q15, as required by the ACA. It was calculated on the basis of the riskiness of the company's enrollments. Companies with low-risk enrollments are charged a fee to reduce the burden of its peers in the health insurance industry.
Aetna's premiums from government-sponsored enrollments were greater by $633 million in 1Q15  than premiums in 1Q14. The company's government medical care ratio improved from 84.7% in 1Q14 to 81.3% in 1Q15. This was on account of improved premiums coupled with Aetna's efforts to manage its healthcare costs.
SG&A ratio
Aetna's SG&A expenses increased approximately $352 million in 1Q15 compared to 1Q14. The company attributed these expenses to increased investment spending to support its growth initiatives and to the inclusion of acquisition-related costs from 2014. With a rise in the number of acquisitions in the healthcare industry (XLV) since 2014, peers such as Humana (HUM), Cigna (CI), and UnitedHealth Group (UNH) are also expected to witness high SG&A expenses in 2015.