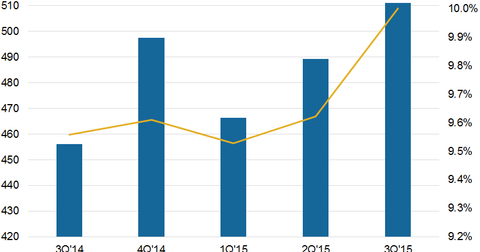 Progressive's Commercial Lines Expand on Transport Sector in 3Q15
By Robert Karr

Updated
Commercial Lines business
Progressive's (PGR) Commercial Lines business revenues increased by 12.1% to $511 million in 3Q15, up from $456 million in 3Q14. The division forms approximately 10% of the company's total revenues.
Progressive writes primary-liability, physical-damage, and other auto-related insurance for cars and trucks owned and operated predominantly by small businesses. The company reported growth of 6.1% in total policies in force of 0.55 million as of September 30, 2015, compared to 0.52 million as of September 30, 2014.
Article continues below advertisement
Progressive has seen good growth in trucks, short-haul trucking, and long-haul trucking. The company doesn't face much competition in these segments from other players in the market. Market conditions have acted favorably for the company in recent quarters. The economy and underperformance by some of Progressive's competitors have led to higher demand for the company's commercial product offerings.
ARX Holdings
Progressive entered the Property Lines business with the acquisition of ARX Holding. The division writes personal and commercial property insurance for homeowners, renters, and other property owners. The division forms 5% of the company's total revenues.
Progressive has been more profitable primarily because of favorable macroeconomic conditions, expense management, and innovative product offerings. It posted an operating margin of 11.2% in 3Q15. Here's how its peers compare:
Together, these companies form 1.1% of the SPDR S&P 500 ETF (SPY).