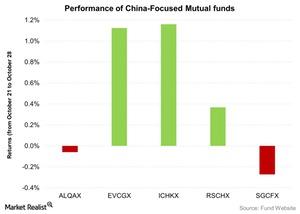 Performance of SSE Composite Index from October 21 to October 28
By Lynn Noah

Oct. 30 2015, Published 8:08 a.m. ET
Shanghai Stock Exchange (SSE) Composite Index rises
The SSE Composite Index rose by 1.6% week-over-week and ended at 3,375.2 points on October 28, 2015, since the market participants were waiting for the release of growth targets for the 13th Five Year Plan by China's Communist Party on October 29, 2015. Also, the stock market rallied after the People's Bank of China (or PBoC) cut its benchmark lending rate by 25 basis points on October 23, to 4.35%, and its one-year deposit rate by 25 basis points to 1.5%.
Article continues below advertisement
Listed stocks
The SSE Composite Index includes all listed stocks (A-shares and B-shares) at the Shanghai and Shenzhen Stock Exchanges.
A-shares are shares denominated in domestic currency, renminbi in this case, and are available only to local investors. On the other hand, B-shares are shares denominated in foreign currency such as in US dollars on the Shanghai Stock Exchange and in Hong Kong dollars on the Shenzhen Stock Exchange and are available to foreign investors.
Returns on China-focused mutual funds, October 21 to October 28
The Guinness Atkinson China & Hong Kong Fund (ICHKX) posted the highest returns of 1.2%, closely followed by the Eaton Vance Greater China Growth Fund (EVCGX) with 1.1% returns. The RS China Fund Class A (RSCHX) posted the lowest positive returns of 0.4%.
The returns of the Shelton Greater China Fund (SGCFX) and the AllianzGI China Equity Fund Class A (ALQAX) came in at -0.3% and -0.1%, respectively.
Alibaba (BABA) posted better-than-expected 3Q15 earnings and its stock price rose by 18.5%.
American depository receipts (or ADRs) of Chinese tech giants Youku Tudou (YOKU) and 58.com (WUBA) fell by 0.5% and rose by 3.8%, respectively.