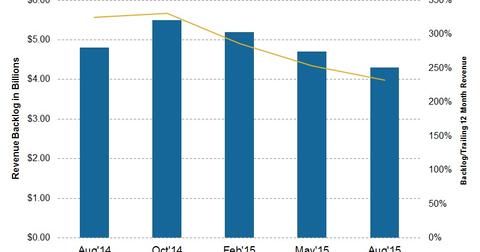 Ocean Rig's $185 Million Backlog Under Threat
By Sue Goodridge

Updated
Ocean Rig's backlog
A company's backlog is a helpful indicator of its future revenues. As of August 2015, Ocean Rig (ORIG) had a total backlog of $4.3 billion, compared to its backlog of $4.7 billion at the end of May 2015. The ratio of the company's backlog to its trailing-12-month revenue has rapidly fallen, and stands at 232%, compared to 325% in the same period in 2014.
Article continues below advertisement
Backlog for 2016–2017
The details for Ocean Rig's contracted revenue backlog are as follows:
The backlog for 2016 stands at 1.5 billion, equaling 81% of the company's trailing-12-month revenue. This means that if the company is unable to secure new contracts, its 2016 revenue will be almost 81% of its revenue over the past four quarters.
The backlog for 2017 stands at $1 billion, or 54% of the revenue for the past four quarters.
The backlog-to-revenue ratio is rapidly falling. This indicates that Ocean Rig is largely dependent on older contracts and is having a hard time securing new contracts during the current industry downturn.
Contracts
Ocean Rig has an average contract remaining fixed period of 2.1 years, and 3.4 years including options to extend the contracts. Also, the contract on one rig will roll off at the end of 2015, and contracts on three rigs will expire in 2016. The company states that there are currently no prospects for further employment for these rigs.
Article continues below advertisement
Potential backlog loss
As we mentioned in the previous article, the company's contract on Ocean Rig Mylos is now facing a contract breach and could potentially be terminated by the customer. This could lower the company's backlog by ~$185 million. Currently, the rig is receiving a high day rate of $637,000. Without an early termination, the contract for this rig extends until 3Q16.
The company has two rigs contracted with Petrobras. Working with Petrobras is proving risky for many offshore drillers. Petrobras recently terminated many drilling contracts and is expected to terminate even more contracts going forward. To date, Ocean Rig has not received any termination notice.
Comparing Ocean Rig's backlog with peers
Ocean Rig's total revenue backlog was 232% compared to the trailing four quarters. This ratio stands higher than many other offshore drillers (IYE) such as Pacific Drilling (PACD), Seadrill (SDRL), Ensco (ESV), Rowan Companies (RDC), and Diamond Offshore (DO). These drillers have ratios of 164%, 153%, 160%, 210%, and 228%, respectively.
Noble Corporation (NE) and Atwood Oceanics (ATW) saw the highest total backlog to revenue ratios—268% and 538%, respectively.