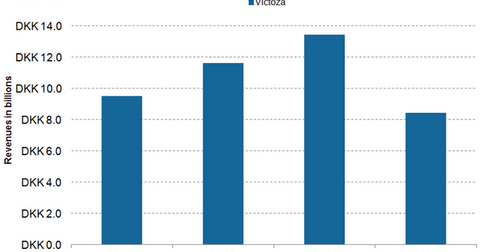 Novo Nordisk's Victoza Maintains Leadership in GLP-1 Market
By Margaret Patrick

Updated
GLP-1 market
The global market for diabetes care products is worth 283 billion DKK (Danish krone currency). Insulin therapy, oral antidiabetics, and glucagon-like peptide-1 (or GLP-1) therapies account for 55%, 38%, and 7% of the global diabetes market, respectively. GLP-1 therapy also accounts for 8.5%, 8.5%, 2.3%, 0.8%, and 2.4% of the total diabetes market in the United States, Europe, International Operations, China, and Japan, respectively.
The above graph shows that Novo Nordisk's (NVO) Victoza revenues steadily increased from 2012 to 2014.
Article continues below advertisement
With 71% market share, Victoza is currently the market leader in the GLP-1 segment. Victoza also accounts for 68%, 78%, 75%, 54%, and 64% of the total GLP-1 market in the United States, Europe, International Operations, China, and Japan, respectively. International Operations encompasses 153 countries around the world, including Latin America, Africa, the Middle East, the Gulf, most of Asia, Australia, Oceania, and New Zealand. Victoza is considered the primary growth driver for Novo Nordisk, mainly as a result of the solid growth of the underlying GLP-1 market.
Victoza targets the treatment of type 2 diabetes patients who are unable to control their blood sugar levels with oral drugs. Launched in the European Union in 2009 and in the United States in 2010, Victoza is expected to gain market share from competing GLP-1 therapies such as AstraZeneca's (AZN) Byetta and Bydureon, Sanofi's (SNY) Lyxumia, and Eli Lilly's (LLY) Trulicity.
GLP-1 therapy
GLP-1 drugs are also called incretin mimetics, as they mimic incretin hormones in the body. According to WebMD, "Incretin is a natural hormone that your body makes. It tells your body to release insulin after you eat. Insulin lowers blood sugar. Incretin mimetics act like (mimic) the incretins in your body that lower blood sugar after eating."
You can get exposure to Novo Nordisk's GLP-1 therapy Victoza and avoid excessive company-specific risks by investing in the VanEck Vectors Pharmaceutical ETF (PPH). Novo Nordisk accounts for 5.05% of PPH's total holdings.