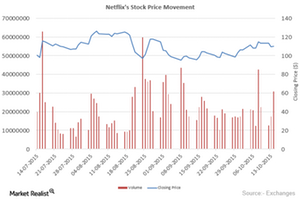 Netflix's Beef with US Banks over Chip-Based Credit Cards
By Parker Thomas

Dec. 4 2020, Updated 10:53 a.m. ET
Netflix blames US banks
After its 3Q15 earnings report, which was released on October 14, 2015, Netflix (NFLX) was disappointed with the number of US subscribers it added to its existing user base quarter over quarter. The company has pointed the finger at US banks and their rollout of new chip-enabled credit cards, which are intended to prevent fraud. But are these changes ultimately creating chaos for Netflix's payment system?
According to Netflix, when their customers receive new credit cards from banks, they have to update their account details with Netflix and provide new credit card numbers and expiration dates in order to continue their subscriptions—a process that has been hurting Netflix's subscription numbers.
Article continues below advertisement
Other possible reasons?
Payment industry experts, however, are not entirely convinced of Netflix's accusation, because every other subscription-based business would have been similarly affected. Credit cards like American Express, Visa, and Mastercard provide merchants with the option of changing card details on behalf of their subscribers. So it's less likely that updated cards come with new numbers—unless the customer's card has been recently exposed to data breaches.
No doubt, Netflix is adding more subscribers from the international market, but as far as domestic growth is concerned, there may be some other macro industry factor that has made an impact on added subscribers. Anthony DiClemente, an analyst at Nomura Securities, gave the following explanation: "It's all owing to the fact there may be, over a longer a period of time, a slowdown in US subscriber growth because the base of subscribers is scaling to such a large degree that it becomes difficult to keep up."
The First Trust ISE Cloud Computing Index Fund (SKYY) is a portfolio of 36 stocks with exposure to Amazon.com (AMZN), Netflix (NFLX), Facebook (FB), and Google (GOOG), which constitute 4.98%, 4.54%, 4.54, and 4.52%, respectively, of the portfolio's holdings.
Read the next and final part of this series for a look at the market reaction to Netflix's 3Q15 earnings release.