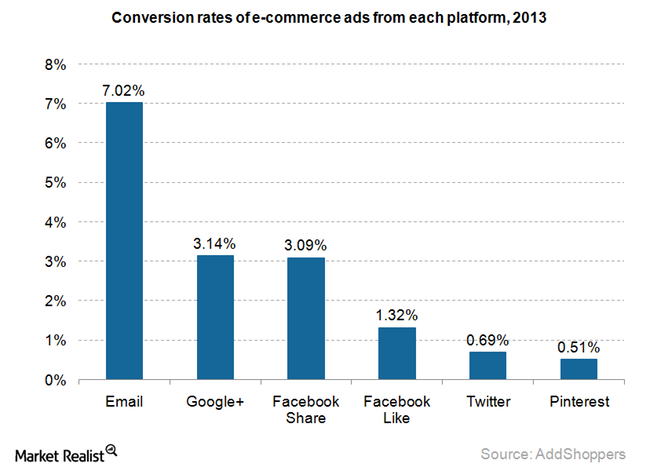 Marketers Can Now Target Ads on Google through Customer Match
By Matilda James

Dec. 4 2020, Updated 10:53 a.m. ET
What's Customer Match?
Google (GOOG) recently announced the launch of a new product called Customer Match. It will enable marketers to send tailored ads to target customers that sign on to Google's Gmail or YouTube video platforms.
Sridhar Ramaswamy, Google's senior vice president of ads and commerce, announced the Customer Match launch. Another tool called Similar Audiences will also be available on Google. It will help marketers reach out to users who share similar purchasing histories with existing customers.
Ramaswamy commented, "With Customer Match, your brand is right there, with the right message, at the moment your customer is most receptive."
Targeted ads not only help advertisers with better conversion rates, but they also help Internet companies with better ad monetization. This kind of ad product from Google will be similar to what Facebook (FB) already provides its users through its Custom Audiences program.
Article continues below advertisement
Custom Audiences enables marketers or advertisers to use basic user data such as email addresses to segment current and prospective customers on Facebook and target them with ads. For example, an online retailer like Amazon.com (AMZN) would take its users' email addresses, identify them on Facebook, and then target them with relevant ads.
Facebook, a sought-after platform
These innovative ad products made Facebook one of the most sought-after platforms for e-commerce companies. According to a report from AddShoppers, and as the above graph shows, Facebook Share and Facebook Like command respective e-commerce ad conversion rates of 3.09% and 1.32%, respectively.
Email continues to lead this list, while Google+ is slightly ahead of Facebook. Twitter (TWTR) and Pinterest lag behind Facebook in this segment.
To gain diversified exposure to Google, you could invest in the iShares US Technology ETF (IYW). IYW invests about 4.3% of its holdings in Google.