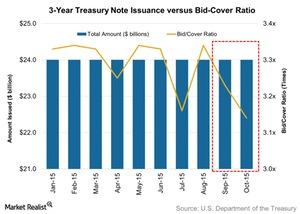 The Marginal Rise in Market Demand for Three-Year Treasury Notes
By Lynn Noah

Updated
Three-year T-notes
The US Department of the Treasury holds monthly auctions of three-year T-notes (Treasury notes), and the yield on these notes is related to movements in the Fed's federal funds rate. Therefore, any auction of these three-year T-notes attracts a lot of attention from stock and bond market participants.
MFs (mutual funds) such as the T. Rowe Price GNMA Fund (PRGMX) and the Prudential Government Income Fund Class A (PGVAX) provide exposure to three-year Treasury notes. Here are some key takeaways from the auction, which was held on October 6:
Article continues below advertisement
The auction size was set at $24 billion—unchanged since the January 2015 auction.
The coupon rate came in at 0.875%—lower than 1.000% in September's auction.
The high yield for October's auction was at 0.895%—lower than the 1.056% in September.
The bid-to-cover ratio was down by 2.8% to 3.1x in October's auction.
In the secondary market, the yield on three-year T-notes went up by one basis point to 0.90% from the previous day, October 5, after the auction.
Demand analysis
The October 6 three-year T-note auction showed a small month-over-month fall in market demand. Total competitive bids (indirect and direct) made up 58.9% of the overall demand, compared to 59.0% in the previous month.
Indirect bids fell from 51.0% in September to 47.7% in October. Indirect bids include those made by foreign central banks. Meanwhile, direct bids rose from 8.0% in September to 11.1% in October. Direct bidders include money managers like Wells Fargo & Company (WFC) and Invesco Mortgage Capital (IVZ).
Due to this fall in market demand, the share of primary dealers rose slightly, to 41.1% from 41.0% one month prior. Primary dealers include companies like JP Morgan Chase (JPM) and Deutsche Bank (DB).
In the next part of this series, we'll look at the results of the 26-week Treasury bills auction on October 5.