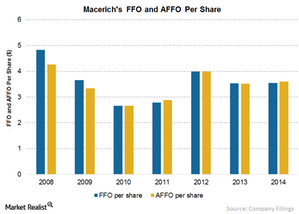 Macerich's High Net Operating Income in 2014
By Peter Barnes

Updated
Operating performance measures
A company's FFO (funds from operations), AFFO (adjusted funds from operations), and NOI (net operating income) are its key measures of operating performance. These measures are important in evaluating the operating performance of the company's portfolio and in providing a basis for comparison with other real estate companies.
Article continues below advertisement
FFO rising gradually
FFO is a measure used by REITs to define the cash generated from their operations. Macerich's (MAC) FFO increased to $542.8 million in 2014 from $527.6 million in 2013. The company recorded its highest FFO of $577.9 million in 2012—and Macerich's FFO has increased consecutively since 2011.
The company achieved an FFO per share of $3.54 in 2014 compared to $3.53 in the previous year. This was the second-highest FFO recorded by the company in the peer group in 2014. Simon Property Group (SPG) reported its highest FFO per share of $8.9 in 2014. On the other hand, CBL & Associates Properties (CBL) posted an FFO per share of $2.73, while General Growth Properties (GGP) witnessed an FFO per share of $1.32. The iShares US Real Estate ETF (IYR) invests 1.30% of its portfolio in Macerich.
Higher NOI in 2014
A company's net operating income is computed by deducting its operating expenses from its gross operating income. A company's operating expenses can be property taxes, maintenance costs, and salary, among other things. NOI, on the same token, is used to measure the operating performance of the company's properties while FFO is used measure operating performance of a REIT.
Macerich's (MAC) portfolio NOI grew by 9.9% in 2014 to $611 million compared to its 32.4% growth in 2013. This is the highest NOI reported by the company since 2008.
Let's discuss Macerich's dividend payouts in the next part of this series.