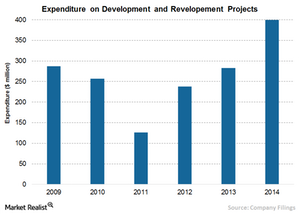 Macerich's Development and Redevelopment Projects
By Peter Barnes

Oct. 16 2015, Updated 3:07 p.m. ET
Redevelopment
One of the major components of a retail REIT's (real estate investment trust) growth strategy is the ability to redevelop acquired properties. For this reason, Macerich (MAC) has developed skill sets that focus on identifying the redevelopment opportunities that could result in enhanced long-term financial returns and market positions for its centers.
Other major retail REITs, such as Simon Property Group (SPG), General Growth Properties (GGP), and CBL & Associates Properties (CBL), are also active in property development and redevelopment projects. Macerich (MAC) makes up 1.84% of the total holdings in the SPDR DJ Wilshire REIT ETF (RWR).
Article continues below advertisement
Development projects
Macerich pursues ground-up development projects on a selective basis. The company has supplemented its strong acquisition, operations, and redevelopment skills with a ground-up development expertise in order to further increase growth opportunities.
Rise in projects
Macerich (MAC) has undertaken a number of development and redevelopment projects since 2011 as a part of its portfolio strategy. The capital expenditure on development, redevelopment, expansion, and renovation declined to its lowest level in 2011 to $126.5 million. However, with the onset of recovery in the market, the capital expenditure of the company also rose consecutively since then, reaching its seven-year peak of $399.8 million in 2014, compared to $283.1 million in the previous year.
In 2014, Macerich continued to make substantial progress on the major development and redevelopment projects that are likely to fuel the company's growth in years to come. The company opened the Tysons Corner office tower, and by 2014, had leased more than 80% of the building. In addition, the company initiated development, redevelopment, and expansion projects at the fashion outlets in Niagara Falls, Broadway Plaza, Santa Monica Place, Los Cerritos Center, and Scottsdale fashion square, among others. Macerich expects to incur between $300–400 million during fiscal 2015 for development, redevelopment, expansion, and renovations of its properties.
In the next part of this series, we'll discuss Macerich's strategy to increase shareholders returns.