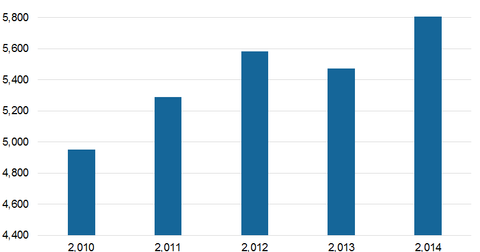 Less-than-Truckload Shipping Benefits Con-way's Revenue Model
By Robert Karr

Updated
Revenue drivers
Con-way (CNW) provides less-than-truckload (or LTL) and full-truckload (or FTL) freight transportation, contract logistics, and supply chain management.
Article continues below advertisement
Less-than-truckload shipping
LTL shipping is the transportation of relatively small freight of 151–20,000 pounds. LTL shipping combines shipments from multiple customers across sectors and product categories.
Businesses choose this budget-friendly option when consumer demand for their products is average or stable. It's primarily targeted at small businesses because they share the transportation costs with other companies.
Full-truckload shipping
FTL is the movement of at least the amount of freight necessary to fill an entire semi-trailer or intermodal container. A truckload carrier is a trucking company that contracts an entire truckload to a single customer.
An advantage FTL carriers have over LTL carriers is that the freight is never handled en route. LTL shipments are unloaded and reloaded as necessary.
Transportation trailers
Con-way also deploys dry van shipping for transporting freight across interstates. A dry van is a standard trailer that doesn't need to have its temperature controlled. It's designed to carry freight that's loaded on pallets, packed in boxes, or otherwise secured within the trailer.
Dry vans are versatile. They're ideal for shipping nearly any type of good or equipment that fits within certain size and weight limitations.
A flatbed trailer is an open truck bed that's used to carry objects such as heavy machinery, steel, lumber, and building products. Flatbeds use a number of devices to secure objects. These devices include chains, straps, and binders. They also use various tarps to protect products from the weather.
A refrigerated trailer is an insulated truck equipped and used as a refrigerator to transport fresh, perishable, or frozen products.