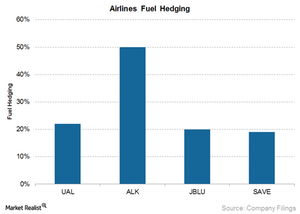 JetBlue's 3Q15 Performance: Must-Know Factors
By Ally Schmidt

Updated
Mint services see tremendous response and growth
JetBlue Airlines' new premium service, which it added to 11 of its flights across high value geographies such as Los Angeles and San Francisco, has received tremendous response. The service commands higher revenues by providing luxurious amenities and services at cheaper fares than its competitors'. The service has not only earned customer satisfaction but also added to the airline's profits. To learn more about this service, see JetBlue Minting Revenue from Its Premium Service.
Article continues below advertisement
JBLU expects to expand "Mint." The airline said that it's expanding its Mint premium service by adding more frequencies from New York to San Francisco and Los Angeles. It will also add five more Mint planes in the coming year in order to serve the Boston–Los Angeles and Boston–San Francisco routes. This should help the company gain elite passenger traffic, which would add a substantial chunk to its revenues.
Fare options get better-than-expected response
On June 30 2015, JetBlue had launched its new "Fare Options" under which it divided its revenues into ticket and non-ticket streams. For example, customers who buy the cheapest fares must pay extra to check a bag or they could buy a slightly pricier fare that includes a free checked bag. This has led to substantial growth in its non-ticket revenue, which is evident from the fact that its RASM grew despite a fall in ticket revenues (or PRASM).
The airline expects to generate at least $80 million in incremental revenue this year, which exceeds its initial target of $65 million. It's expected to achieve $250 million revenue by 2017.
Hedging losses
Fuel costs make up nearly a third of airlines' expenses, and like most other carriers, JetBlue Airways (JBLU) also suffered losses due to hedging. Airlines use hedging strategies to protect themselves from any rapid uptick in oil prices. For 3Q15, JBLU hedged about 14% of its fuel expenses, closer to Delta Air Lines' (DAL) 17% but lower than United's (UAL) 23% and Alaska's (ALK) 50%. American (AAL) doesn't hedge. JBLU forms ~1% of the iShares S&P Mid-Cap 400 Growth ETF (IJK).
During the third quarter, JetBlue reported about $27 million in fuel hedge losses. However, the airline doesn't have any fuel hedges in place for 2016 or beyond. Hedge losses should therefore be minimal in 2016, boosting JBLU's bottom line.
In our next article, we look at JBLU's financial position and find out whether it can support JBLU's future growth.