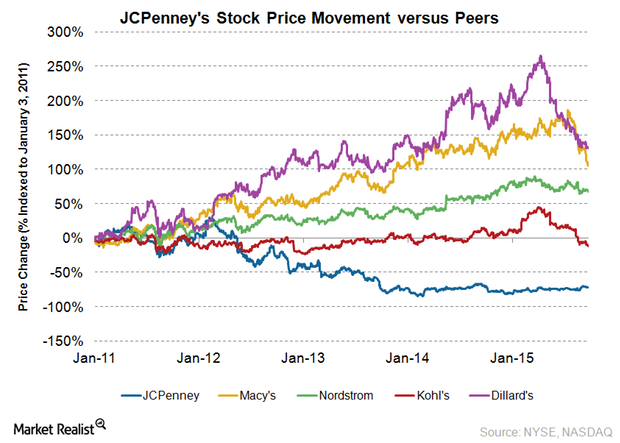 JCPenney's Turnaround Strategy: An Attempt to Rise from the Ashes
By Sirisha Bhogaraju

Oct. 1 2015, Published 1:20 p.m. ET
Turnaround strategy
In the previous part of this series, we mentioned the appointment of Mike Ullman as the CEO of JCPenney in 2013 to replace Ron Johnson after a series of missteps put the department store chain in an uncertain position. Mike Ullman implemented several initiatives as part of a turnaround strategy that aimed to bring back JCPenney's consumers and improve its financial position.
JCPenney's stock price has fallen drastically over recent years, reflecting market disappointment over the company's performance. As of September 25, 2015, JCPenney's stock has fallen by 71.5% compared to the beginning of 2011. The stock price of peers Dillard's (DDS), Macy's (M), and Nordstrom (JWN) increased by 131.1%, 106.4%, and 68.2%, respectively, since the start of 2011. The stock price of Kohl's (KSS) fell by 12.1% since the beginning of 2011.
JCPenney is a part of the iShares S&P Mid-Cap 400 Value ETF (IJJ) and constitutes 0.4% of this fund.
Article continues below advertisement
Key elements of the turnaround strategy
In fiscal 2013, JCPenney completed the first and second phases of its turnaround strategy which focused on stabilizing and rebuilding the company. During fiscal 2014, JCPenney commenced what it called the "go-forward" phase of its turnaround strategy that focused on long-term growth. Some of the key elements of JCPenney's turnaround strategy were:
restoring private brands
bringing in compelling merchandise assortments, including both private and national brands
closing underperforming stores
revamping the home department
focusing on center core categories
omni-channel approach: creating a seamless shopping experience in stores and online
JCPenney's turnaround strategy focused on reconnecting with its customers. To get them back, JCPenney worked on offering an attractive merchandise mix of private and national brands in a way that would reduce markdowns at the end of the selling season.
The company's turnaround efforts have been showing results. JCPenney reported a 3.4% growth in its net sales for fiscal 2014 ended January 31, 2015. The company continues to implement the initiatives mentioned earlier under the guidance of its new CEO, Marvin Ellison, who succeeded Mike Ullman in August 2015. The company's sales in 2Q15 increased by 2.7% to $2.9 billion. Though sales have improved, the company's earnings continue to be in the red. We will elaborate on some of the key elements of the company's turnaround strategy in the subsequent parts of this series.