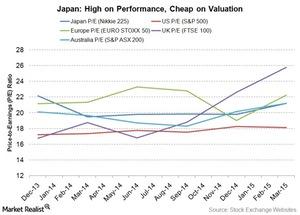 Japanese Equity: Cheap Valuations, Rising Dividends, Focus on ROE
By Surbhi Jain

Nov. 5 2015, Updated 9:08 a.m. ET
Why Bill Gross likes Japanese equity
On Japan, legendary investor Bill Gross said, "Bank of Japan ([or] BoJ) Governor Haruhiko Kuroda has upped the ante on his massive monetary stimulus, and the country's largest pension fund is more than doubling its equity allocation. Aside from 'Kurodanomics,' we like Japanese equities due to cheap valuations, rising dividends and a new focus on return on equity."
In the previous part of this series, we saw how the third arrow of Abenomics calls for introducing corporate reforms that encourage corporations to focus on returns to shareholders. Companies such as Mitsubishi UFJ Financial Group (MTU), NTT Docomo (DCM), Honda Motor (HMC), Toyota Motor (TM), Nidec (NJ), and Nomura (NMR) have generated ROE of 15.6%, 15.3%, 14.1%, 13.6%, 11.7%, and 8.6%, respectively.
Article continues below advertisement
Japan: high on performance, cheap on valuation
Japanese equity (DXJ) is significantly cheaper than US equity and other developed markets (EFA), based on revenue. It's also cheaper than the United States based on earnings. Moreover, with corporate reforms underway, as we saw in the previous part, corporate profitability is set to gain further in Japan.
The weaker yen has built a strong case for Japan's export-oriented economy. On the other hand, the stronger dollar and low energy prices continue to weigh down corporate earnings and profitability of US multinationals and energy firms, respectively.
Japan has comparative advantages to offer
Currently, the politically stable environment in Japan gives it another comparative advantage over other nations. Its current leaders, Prime Minister Shinzo Abe and Haruhiko Kuroda, governor of the Bank of Japan, should continue in office for the next three years. So far, Japan (EWJ) has performed well under their leadership. Market participants doubt that the current favorable situation should significantly reverse during their regime.
There are several factors that currently favor Japan and build a strong case for the expectation of a further rise in Japanese equity.