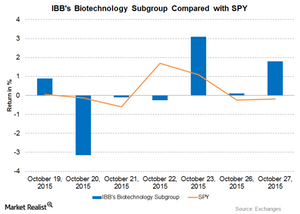 ISIS Rose 11.4%, Helped the Biotechnology Subgroup's Performance
By Peter Neil

Oct. 30 2015, Updated 8:07 a.m. ET
Biotechnology subgroup rose by 1.8%
The iShares Nasdaq Biotechnology ETF's (IBB) biotechnology subgroup rose 1.8% as of October 27, 2015. IBB's biotechnology subgroup consists of 74 stocks. It accounts for ~75% of IBB's portfolio. Out of the 74 stocks, 52 stocks gave positive returns and 22 stocks ended up in red. The biotechnology subgroup includes stocks like Intercept Pharmaceuticals (ICPT), Seattle Genetics (SGEN), and Kite Pharma (KITE). They gave returns of -0.2%, 3.6%, and 2.3%, respectively.
The above graph shows the performance of IBB's biotechnology subgroup compared with the SPDR S&P 500 (ETF) on a day-to-day basis since October 19, 2015. For this period, IBB's biotechnology subgroup gave a return of 2.4% while SPY returned 1.7%. The biotechnology subgroup outperformed SPY.
Article continues below advertisement
ISIS Pharmaceuticals rose by 11.4%
ISIS Pharmaceuticals (ISIS) rose by 11.4% on October 27, 2015. The stock rose due to the news of a $5 million milestone payment from GlaxoSmithKline (GSK). According to the press release, ISIS announced that "it has earned a $5 million milestone payment from GSK related to the initiation of a Phase 1 study of ISIS-GSK4-LRx (formerly ISIS-GSK4Rx) in healthy volunteers. ISIS-GSK4-LRx is one of five drugs in development with GSK and is designed to treat patients with an undisclosed ocular disorder." To date, ISIS has received nearly $135 million from GlaxoSmithKline as its partnered programs have advanced in development.
ISIS also announced that it would review the ISIS-TTRRx data to be presented at the first European Congress of Hereditary ATTR-Amyloidosis. It will also provide an update for the Phase 3 development plan. The conference will be held on November 3, 2015. The news might have excited investors. ISIS closed at $51.90. It was trading above the 20-day and 50-day moving averages. It was just below the 100-day moving average. ISIS has a weight of 0.85% in IBB's portfolio.