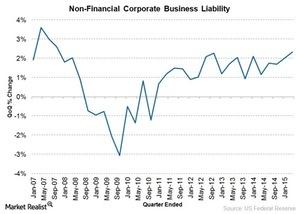 What Are the Implications of a 2% Federal Funds Rate?
By Surbhi Jain

Nov. 20 2020, Updated 4:43 p.m. ET
Corporate America has termed out on its debt
Corporate America "has already termed out on its debt," according to Bill Gross in his October 2015 Investment Outlook.
The Fed's policy of lowering interest rates to near-zero has worked and increased corporate leverage. However, as we discussed in Part 5, a large part of this leverage has been used towards paying higher dividends and buying back shares instead of fueling strong investments. Currently, with profits at an all-time high and rates at an all-time low, Corporate America doesn't seem to be feeling stressed on the credit front.
Article continues below advertisement
Lean years ahead
However, much like the 2008–2009 credit crisis, which left households with excessive debt burdens, this time the table could turn towards corporate America. Legendary investor, Bill Gross of Janus Capital (JNS), strongly believes that the Fed's ZIRP (zero interest rate policy) is detrimental to corporate America. He believes that corporate America has already termed out on its debt. "We'll have to pay the price of years of debt with lean years," says Bill Gross.
According to Gross, the Fed needs to look past the tradition Taylor rule and Phillips curves to Ray Dalio's contemporary model of how the economic machine works. The Fed needs to look at and talk about more than just employment statistics and inflation figures. In fact, the Fed should get off zero and be at a 2% interest rate.
Can a 2% rate restore the savings function in developed economies?
The lower interest rates in the US have been driving bond (BND) (AGG) and stock (SPY) (SPXL) (SPXS) prices up for a while. Stocks gain as their return gets attractive with a lower return on bonds from the benefits of increased investment into the economy. Bond prices rise when yields fall.
A 2% federal funds rate could certainly affect stock and bond prices. They would start to tumble almost instantly. However, with the savings function of liability-based business models restored, as we discussed in Part 6, it should "ultimately lead to rejuvenated private investment, which is the essence of a healthy economy," said Gross. The economy needs to evaluate its choices. Is the US willing to endure near-term pain in return for long-term gain?
Read Ray (Dalio) of Hope for Bond Investors or (Bill) Gross Delay in Raising Rates? to learn more.