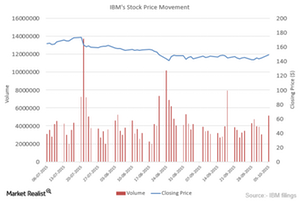 IBM's and AT&T's Collaboration in Mobile Cloud Security
By Parker Thomas

Updated
BYOD increases data flow
IBM (IBM) and AT&T (T) have teamed up to deliver cutting-edge mobile cloud security solutions to businesses. The collaboration should provide companies more productive and hassle-free security services. In order to decentralize their data delivery processes, companies have started relying more and more on the BYOD (bring your own device) concept, which leads to increased use and heightened value of mobile data across devices. CIOs (chief information officers) are thus looking to connect customers, partners, and employees across devices to make information available on a real-time basis.
Article continues below advertisement
Cyber-criminals and their targets
Cyber-criminals are increasingly targeting mobile apps, internet connections, and corporate networks. An AT&T cybersecurity insight report states that there has been an increase in DDoS (distributed denial of service) attacks over past two years. Both AT&T's and IBM's mobile cloud solutions thus aim to provide companies with simple tools for connecting their customers' devices and securing data flow. The two companies' collaborative architecture includes:
IBM MobileFirst Protect, which aims to manage and control devices, applications, and documents
AT&T NetBand, which aims to secure scalable network connections to IBM's Cloud service
IBM Cloud, which focuses on public and private cloud services for applications and data storage
AT&T Work Platform, which focuses on business billing and personal charges
Steve McGaw, Chief Marketing Officer of AT&T Business Solutions, has pointed out that, with the increase in devices, the complexity of securing corporate data increases. "To address the changing business model," McGaw said, "we are collaborating to deliver highly secure mobile access to cloud apps and data."
The First Trust ISE Cloud Computing Index Fund (SKYY) is a portfolio of 36 stocks. Its top four stocks—Amazon.com (AMZN), Netflix (NFLX), Facebook (FB), and Google (GOOG)—constitute 4.98%, 4.54%, 4.54, and 4.52%, respectively, of SKYY's portfolio.
Read the next part of this series for a look at the cybersecurity collaboration between FireEye and F5 Networks.