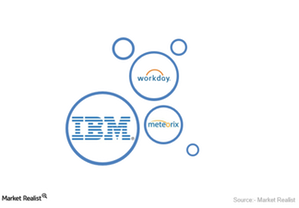 How IBM's Acquisition of Meteorix Should Help Deliver Workday's Solutions
By Parker Thomas

Updated
IBM, Meteorix, and software implementation
IBM (IBM) announced on September 28, 2015, that the company plans to acquire Meteorix, a consulting partner of Workday (WDAY). Meteorix is a leading provider of human resources and finance-based software solutions, and it takes care of everything from implementation and integration. With more than 200 certified Workday consultants, Meteorix has been delivering complex, high-value services across a wide range of industries and has cultivated deep expertise in implementing the best practices and solutions to end users.
Article continues below advertisement
Moving from on-premise to cloud
With the acquisition of Meteorix, IBM should be able to expand its customer base dramatically while enabling Workday to strengthen the quality of its services for potential customers. The combined expertise of Microsoft and Meteorix should also enable Workday's client to implement solutions more rapidly and to help its human resources and finance segments make the move from on-premise to the cloud. Meteorix currently serves a diverse customer base of leaders and innovators across a wide variety of industries in the US and Canada.
Aneel Bhusri, co-founder and CEO of Workday, said that the combination of IBM and Meteorix will bring significant added value to its customers. Meteorix's deep experience, together with IBM's industry expertise, should help its clients to transform their businesses for future growth.
The First Trust ISE Cloud Computing Index Fund (SKYY) is a portfolio of 36 stocks. Its top four stocks—Amazon.com (AMZN), Netflix (NFLX), Facebook (FB), and Google (GOOG)—constitute 4.98%, 4.54%, 4.54, and 4.52%, respectively, of the ETF's portfolio.