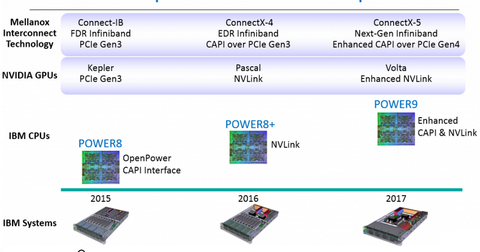 IBM Launches Power Systems LC Servers for Big Data and HPC Market
By Anne Shields

Updated
IBM launches Power Systems LC to gain foothold in big data and HPC space
On October 9, 2015, International Business Machines (IBM) unveiled Power Systems LC, a new line of power servers aimed specifically at big data analytics, cloud, and HPC (high-performance computing) workloads. IBM launched Power Systems LC to gain an edge on Intel's (INTC) x86 servers. IBM claims its newly unveiled three Power Systems LC servers cost 50% less than a comparable x86 server and provide twice the level of performance.
Article continues below advertisement
Recently, IBM through SuperVessel and OpenPOWER Foundation aimed to threathen x86 server dominance. IBM's Power Systems LC servers are designed and based on technologies of OpenPOWER Foundation. OpenPOWER Foundation is an open hardware technology initiative that was started in 2013 by Google (GOOG), IBM, NVIDIA (NVDA), Mellanox Technologies (MLNX), and Tyan Computer.
Sumit Gupta, vice president of OpenPower high-performance computing at IBM, commented about Power Systems LC, stating, "This is our re-entry into the HPC market. This is our first OpenPower-based HPC server, and our go-to-market in the HPC space is an accelerated approach, which means not just CPUs but using CPUs and GPUs together. We still obviously offer a CPU-only version for clients who have not migrated their code to take advantage of GPUs yet."
IBM's sale of its System x division loosened its hold on HPC space
In 2014, IBM sold its x86 server division to China-based (FXI) Lenovo (LNVGY) for $2.1 billion. Earlier, IBM was considered a market leader in x86-based servers. However, after the sale of its server business to Lenovo, it lost the leadership position to Lenovo.
With the sale of low margin hardware units like x86 servers, IBM is trying to streamline its hardware business and shift its focus to Power8 servers and z System mainframes. Its strategic divestments in the hardware division combined with the launch of the new z Systems helped its System Hardware segment post 5% year-over-year growth in fiscal 2Q15.