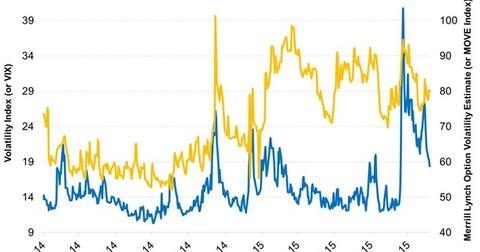 Higher Volatility: You Need to Rethink Your Portfolio Strategy
By Heather Pelant

Updated
Perhaps one of the most overused words in investing, Heather Pelant explains what "diversification" means and how it may fortify your investments against market volatility.
The recent market volatility, while not unexpected, has certainly been hard for any investor to digest. If you are feeling a tad queasy, you aren't alone.
It's an apt moment to pause and remind ourselves of the importance of diversification to help your portfolio ride through market turmoil.
Market Realist – Higher volatility calls for you to rethink your strategy.
After being calm for most of 2014, both bonds (AGG)(BND) and stocks have experienced volatility this year. The graph above shows the volatility in both stock and bond markets. The volatility index, or VIX (VXX), is a fear gauge for US equities (SPY) while the MOVE index measures the implied volatility in US Treasuries (TLT).
In late August, VIX spiked from the mid-teens to over 40 within a week. It went from calm to a panic as fears of a slowdown in China (FXI) dented investors' psyche. This led to a global equity (ACWI) meltdown. While equities have calmed down since then, volatility remains close to the long-term average of 20. It hardly hit this in previous years. Monetary accommodation soothed the markets in the last few years. However, the looming rate hike, among other reasons, also caused a rise in volatility.
Meanwhile, bond markets have been volatile all year, mainly due to the possibility of higher rates. Since markets were expecting rates to rise somewhere down the line this year, both bonds and stocks were choppy. This caused a higher correlation between the two. This means that the traditional portfolio may not give the optimal results.
In this series, we'll explain how you can effectively diversify your portfolio in order to smooth the effect of the ups and downs in the markets.
Article continues below advertisement