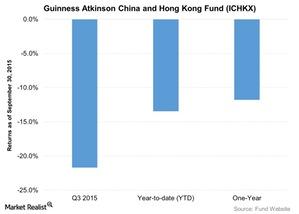 The Guinness Atkinson China and Hong Kong Fund in 3Q15
By Lynn Noah

Updated
Investment objective and strategy
The goal of the Guinness Atkinson China and Hong Kong Fund (ICHKX) is to achieve long-term capital appreciation by primarily investing in securities of China and Hong Kong.
The fund benchmarks its performance to the Hang Seng Composite Index.
Article continues below advertisement
Fund facts
The ICHKX has net assets of ~$64.6 million as of September 30, 2015. The fund has an expense ratio of 1.52%. The fund was initiated on June 30, 1994, and is managed by Edmund Harriss.
Performance evaluation
The ICHKX fell 21.7% in the quarter ended September 2015. Meanwhile, the fund fell by 13.5% in the year-to-date period. In the one-year period ended September 30, 2015, the fund fell 11.8%. Most of the stocks fell during the Chinese stock market's meltdown, dragging down the quarterly performance of the ICHKX.
Article continues below advertisement
Top sectors and holdings
The dominant sector in the fund's holdings is financials, with a 31.9% weight in the portfolio, followed by the information technology sector at 24.1%. The consumer discretionary and industrials sectors accounted for 14.6% and 13.8% of the portfolio's weight, respectively. Finally, the energy sector commands a 6.6% weight in the portfolio's allocation.
During the crash of the Chinese stock market on August 24, the commercial banks sector was severely impacted, negatively impacting the performance of the fund.
As of September 30, 2015, the ICHKX held 41 securities in its portfolio. The fund's top ten holdings accounted for 36.7% of the total portfolio weight. The fund's top ten holdings include NetEase (NTES), Tencent Holdings (TCEHY), the DB x-trackers CSI 300 UCITS ETF, Lenovo (LNVGY), and China Mobile (CHL). Their respective weights were 4.3%, 4.1%, 3.8%, 3.4%, and 3.4%.