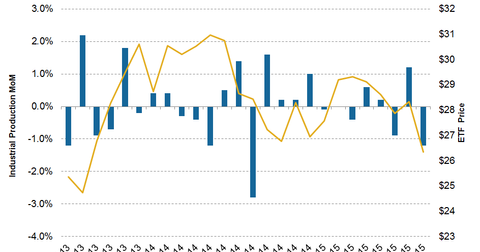 German Industrial Production Failed to Regain Strength in August
By Lara Sheldon

Nov. 20 2020, Updated 4:20 p.m. ET
Germany industrial production declined 1.2% in August
The Germany industrial production index (or IPI) fell 1.2% in August 2015 against a revised increase of 1.2% in July. The Germany-focused iShares MSCI Germany ETF (EWG) fell 2.6% over the past month as of October 7, 2015.
Industrial production in Germany increased 2.3% year-over-year in August. With manufacturing not gaining strength, the ETF fell 4.3% on a yearly basis.
Article continues below advertisement
  Falling crude oil prices pull energy production down
Industrial production is an important economic indicator, as it gauges current business conditions. Higher production may lead to increasing stock prices, as it signifies economic growth and higher profits. Lower production suggests weakening economic conditions.
Declining production has impacted industrial stocks adversely. Year-to-date, companies like Siemens (SIEGY) and GEA (GEAGY) fell by 14.6% and 7.8%, respectively, as of October 7, 2015.
Falling crude oil prices are also impacting energy production, which fell by 1.4% in August 2015. Even production in construction declined by 1.3%. Material sector stock HeidelbergCement (HDELY) fell 0.75%, and energy company E.ON (EONGY) fell 9.3% over the past month as of October 7, 2015.
Highly traded stocks such as Deutsche Bank (DB) and Bayer AG (BAYZF) fell by 5.7% and 2.4%, respectively, while SAP SE (SAP) rose 1.5% over the same period.
Excluding energy and construction, production was down by 1.1%. Within the industry, the production of capital goods and consumer goods decreased by 2.1% and 0.4%, respectively, while the production of intermediate goods remained at the same level as the previous month.
Like other European countries, Germany is linked to growth and sluggishness in the European economy. An economic rebound in Germany is necessary for the revival of the region, as Germany is one of the powerhouses among the European nations.
However, production staying at low levels reflects that business confidence is failing to regain strength. The slowdown in China and other emerging economies are further hampering growth prospects.
In the next article, let's take a look at how UK industrial data are impacted by world volatility.