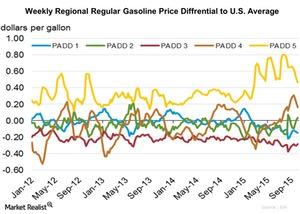 Gasoline Price Differential and Unplanned Refinery Outages
By Manu Milan

Updated
Gasoline prices
According to the EIA (US Energy Information Administration), The United States' average regular gasoline retail price rose by two cents from the previous week to $2.34 per gallon on October 12, 2015, or 87 cents per gallon lower than the price at the same time last year. Prices fell for the Rocky Mountain and West Coast regions, by five cents and four cents, respectively, to $2.42 per gallon and $2.75 per gallon, respectively. The Midwest region's price rose by five cents to $2.41 per gallon. Prices in the East Coast and Gulf Coast both rose by two cents, to $2.19 per gallon and $2.05 per gallon, respectively.
Article continues below advertisement
Price differential and US average prices
Refineries make arrangements for alternative sources of supply during periods of planned maintenance to ensure that obligations are met. It sometimes takes days or weeks for markets to adjust to the sudden loss of production when an unexpected outage occurs. As a result, unplanned refinery outages often result in a reduction in supply that causes prices to rise.
Unplanned refinery outage in PADDs
Refinery outages can have a huge impact on liquid fuel markets, disrupting supplies of gasoline. In late August, unplanned outages occurred at two refineries on the East Coast, or PADD 1 (Petroleum Administration for Defense District), affecting a significant portion of PADD 1's gasoline production capacity.
However, unlike similar incidents on the West Coast, or PADD 5, and in the Midwest, or PADD 2, there was no significant movement in gasoline prices as a result of the outages.
Impact of price difference to US average prices
Price difference directly impacts on the end consumer who needs to pay more than other regions' consumers pay. From the above graph we can notice that the West Coast region, or PADD 5, and the Rocky Mountain region, or PADD 4, are facing price differential from US average prices.
This Price differential isn't necessarily good for the end consumers, but it could create more returns for the refiners operating in PADD 4 and PADD 5, such as Phillips 66's (PSX) Los Angeles Refinery, Tesoro (TSO), Chevron's (CVX) Richmond Refinery, Valero's (VLO) Benicia Refinery, ExxonMobil's (XOM) Torrance Refinery, and Marathon Petroleum Company's (MPC) Catlettsburg Refinery. Chevron and ExxonMobil account for 34.49% of the Vanguard Energy ETF's (VDE) portfolio.