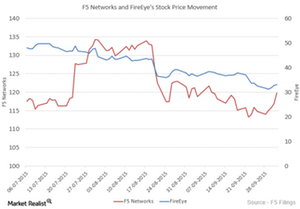 F5 Networks' and FireEye's Collaboration in Integrated Security Solutions
By Parker Thomas

Updated
Advanced threat management
FireEye (FEYE), a solution provider for advanced security against cyberattacks, and F5 Networks (FFIV) have announced a joint venture aimed at protecting businesses from the growing threat of cybercrime. F5 Networks provides solutions for software applications, and along with FireEye it intends to provide even more comprehensive security solutions to their existing clients. More specifically, F5 Networks plans to supply the application delivery infrastructure to work in tandem with FireEye's already advanced security solutions.
The partnership between the two firms should augment their advanced threat management platforms, accelerating deployment, performance, and overall security for their clients. In addition, the partnership aims to provide the following benefits to their end users:
Article continues below advertisement
Comprehensive Security Solutions, including application infrastructure and advanced securities such as DDoS (distributed denial of service) mitigation, SSL (secure sockets layer) inspection, and intrusion prevention
Availability in heavy network traffic, including BIG-IP platform monitoring and load-balancing capability, which offers protection against advanced threats
Integrated security architecture, which should provide improved visibility to the growing stream of encrypted traffic, in addition to insights and alerts to malicious activities
Comprehensive solutions for clients
The partnership between F5 and FireEye brings together two leaders in application development and network security in an effort to address the growing need for security infrastructure. Cybercrime is a multifaceted problem that continues to generate advanced threat capabilities. Fighting cybercrime requires new, innovative solutions for a range of susceptible industries.
Jon Oltsik, a senior principal analyst at Enterprise Strategy Group, has said that "enterprises require the holistic security approach that defends a broad footprint." The partnership between F5 and FireEye, in this sense, aims to strengthen the ability of security teams to deliver holistic defenses to end users.
The First Trust ISE Cloud Computing Index Fund (SKYY) is a portfolio of 36 stocks. The fund's top four stocks—Amazon.com (AMZN), Netflix (NFLX), Facebook (FB), and Google (GOOG)—constitute 4.98%, 4.54%, 4.54, and 4.52%, respectively, of SKYY's holdings.
In the next part of this series, we'll take a look at F5 Networks' early October 2015 stock activity and moving averages.