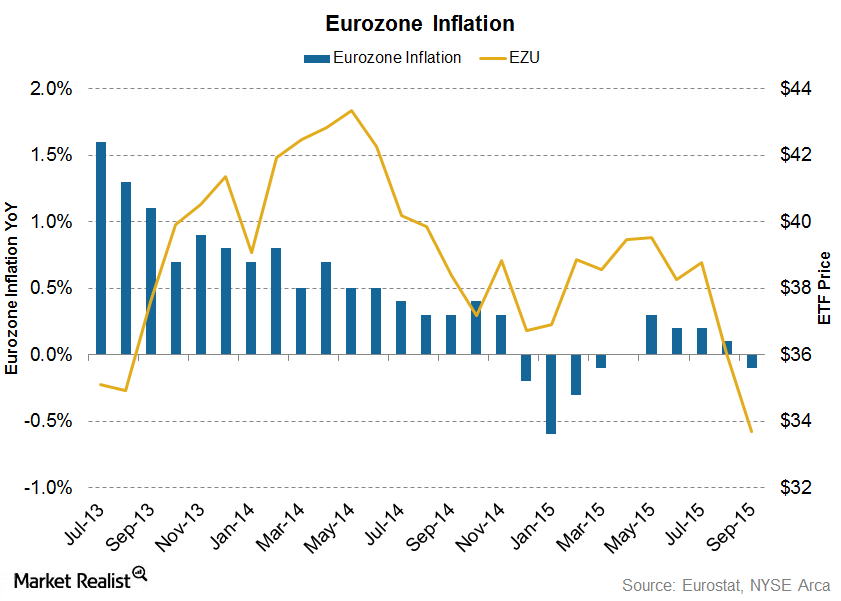 Eurozone Disappoints with Negative Inflation in September
By Lara Sheldon

Dec. 4 2020, Updated 10:53 a.m. ET
Eurozone's inflation is negative in September
An inflation level in the range of 2%–4% is a must in order for any economy to grow. The growth doesn't just depend on the output level. It also depends on the price level change in the economy.
Like the US, the Eurozone is also strained due to low inflationary pressures. The Eurozone's determination to keep its inflation positive could become sour. Its annual inflation is expected to fall to -0.10% in September—compared to 0.10% in August 2015.
The fall is mainly attributed to the fall in energy prices. They fell 8.90% in September—compared to -7.20% in August 2015. Falling crude prices offset the rise in food and services inflation.
Article continues below advertisement
EZU continues to fall with negative inflation
The financial markets monitor the inflation rates. Continual low levels of inflation have dragged the iShares MSCI Eurozone (EZU) down by 12.10% over the past year as of September 29. Stocks like Sanofi (SNY) and Bayer AG (BAYZF) fell 17.40% and 9.30%, respectively, over the same period. Also, Total SA (TOT) and Siemens Aktiengesellschaft (SIEGY) fell 30.90% and 24.10%, respectively, over the past year as of September 29.
While the inflation outlook was negative for the Eurozone, the economic sentiment indicator improved by 1.5 points to 105.6 in September. Also, the business climate indicator for the Eurozone rose by 0.14 points to 0.34 in September.
The Eurozone accounts for 12.20% of total global GDP (gross domestic product). This means that any economic crisis in the Eurozone could have a severe domino effect across the globe. In order to keep Europe away from a crisis and to revive the economy, the ECB (European Central Bank) undertook a QE (quantitative easing) program. However, even though the ECB took several measures, the European economy is still moving at a slow pace.
Germany is one of the powerhouses among the European countries. Any developments in Germany tend to impact all of Europe. With the Eurozone's inflation turning negative, let's look at Germany's inflation in the next part.