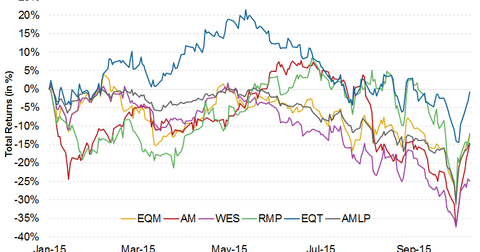 Why EQT Midstream Partners Underperformed Its Sponsor
By Kurt Gallon

Updated
EQT Midstream's total return performance
EQT Midstream Partners (EQM) is expected to release its 3Q15 earnings on October 22, 2015. In this series, we'll talk about the partnership's 3Q15 estimates, distribution guidance, capital expenditure forecast, and analyst recommendations. But first, let's analyze its YTD (year-to-date) total return performance. Total returns include both capital appreciation and distribution income.
EQT Midstream has generated a total return of -12.2% since the beginning of this year. Its sponsor, EQT Corporation (EQT), returned -0.01% YTD. EQT Corporation is one of the largest natural gas producers in the Appalachian Basin, but despite it being directly exposed to natural gas and crude oil prices, it still outperformed EQT Midstream. The latter is shielded by long-term fee-based contracts.
EQT Midstream's underperformance could be attributed to its heavy dependence on its sponsor for throughput volumes and its indirect commodity price exposure. For details on EQT Midstream's indirect commodity price exposure, read Comparing 4 Midstream MLP Subsidiaries of Upstream C-Corps.
Article continues below advertisement
EQT Midstream's peers Antero Midstream Partners (AM), Western Gas Partners (WES), and Rice Midstream Partners (RMP) have returned -14.6%, -24.9%, and -12.1%, respectively. This indicates a general weakness in the midstream sector. The Alerian MLP ETF (AMLP) is composed of 23 midstream energy MLPs (master limited partnerships). EQT Midstream outperformed the ETF by 2.8 percentage points. Meanwhile, the ETF has returned -14.9% YTD. It also invests ~3.5% of its portfolio in EQT Midstream.
About EQT Midstream Partners
EQT Midstream Partners is a midstream MLP involved in natural gas gathering, transmission, and storage services. EQT Midstream was formed by EQT Corporation to own, operate, and acquire midstream assets in the Appalachian Basin.
EQT GP Holdings (EQGP) holds 100% general partner interest in EQT Midstream. Apart from this, EQT GP Holdings also holds all IDRs (incentive distribution rights) and a 30.2% limited partner interest in EQT Midstream. EQT Corporation owns 90.1% of limited partner interest and the non-economic general partner interest in EQT GP Holdings.
In the next article, we'll look into EQT Midstream's 3Q15 revenue estimates.